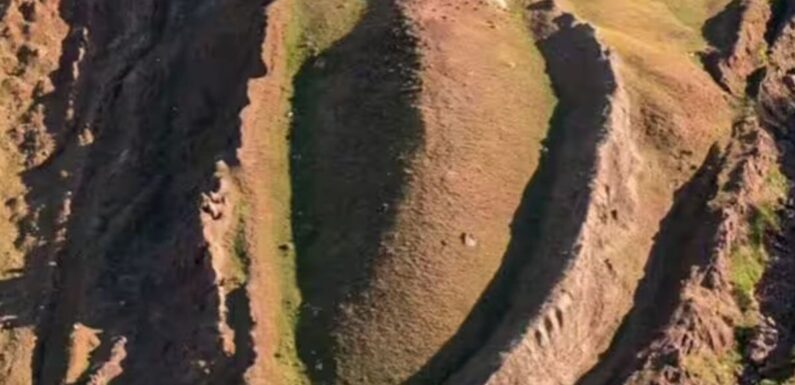 Noah's Ark: Remains of vessel FOUND on Mount Ararat
The Durupınar site is a geological formation some 538 feet high and made of limonite, an iron ore.
For years, archaeologists have worked in and around the ancient site, formerly a part of the great Kingdom of Armenia.
Much of the region it sits in is closely tied to the stories found in the Bible.
Nearby Mount Ararat, for example, features in the Old Testament as the place where Noah's ark landed after the floodwaters receded.
For decades, sites around the world have been cited as the one in which the ark was laid to rest — and a team now believes they have found the definitive spot at Durupınar.
READ MORE Archaeologists taken aback by ancient Persian steel discovery in desert
Testing soil samples at the site they believe to contain the vessels, they concluded that the area dates from the same time the Bible places the Great Flood in history some 5,000 years ago.
The project, having started two years ago, is ongoing, and early conclusions from the analysis show the material to contain clayey and marine.
The Bible says that Noah filled his boat with two of every animal to save them from apocalyptic floods.
His boat measured 150 metres long and was made from gopher wood, a material that isn't recognised today but which some have said might be teak.
Mount Ararat is Turkey's highest mountain at 16,500 feet and has many smaller peaks around it, including one that looks exactly like an ark.
If the researchers' findings are correct, it means humans were active in the mountainous region between 5500 and 3000 BC.
The formation that has caught researchers' attention in the Dogubayazit district of Agri has been looked at as a potential site since at least 1956.
Researchers from Istanbul Technical University (ITU), Andrew University, and Agri Ibrahim Cecen University (AICU) have been working at the site for almost 12 months.
Don't miss…
Stonehenge's purpose finally cracked with breathtaking 3D 'acoustic' model[REPORT]
Archaeologists blown away as boat-shaped mound holds key Noah's Ark evidence[LATEST]
Digital scans unfold crumpled Iron Age gold treasures to uncover their secrets[INSIGHT]
Advert-free experience without interruptions.
Rocket-fast speedy loading pages.
Exclusive & Unlimited access to all our content.
They began their fieldwork in December 2022 after collecting 30 samples of rock and soil fragments later analysed at ITU.
"According to the first findings obtained from the studies, there have been human activities in the region since the Chalcolithic period between the years 5500 and 3000 BC," said AICU Vice Rector Professor Faruk Kaya.
"It is known that the flood of Prophet Noah went back 5,000 years ago. In terms of dating, it is stated that there was life in this region as well. This was revealed in the laboratory results.
"It is not possible to say that the ship is here with the dating. We need to work for a long time to reveal this."
Many are sceptical and say Noah's Ark is a mere allegory and should not be taken literally. Similarly, geologists assert that Durupınar is an entirely natural formation, though they have nominated it as a heritage site.
Local reports say the depression and carvings in the ground were first revealed in May 1948 when heavy rains combined with three earthquakes exposed the formation from the surrounding mud.
Found by a Kurdish shepherd, it was later identified by Turkish Army Captain Ilhan Durupınar after whom it was named.
Archaeologists were called in in around 1960, digging and dynamiting the area in the hope of revealing material relics but to no avail.
After two further days of digging all the team found were soil and rocks, their official post-excavation statement said that "there were no visible archaeological remains" and that this formation "was a freak of nature and not man-made".
It wasn't until 1977 that the site returned to the attention of those working in archaeology when amateur explorer Ron Wyatt came across it and tried to push it as the site of Noah's Ark.
He and a team explored the site in 1985 and took readings using ground-penetrating radar equipment and a frequency generator, finding that its length and size corresponded to that recorded in the Bible.
Later, in 2011, Turkey granted five professors from Ağrı İbrahim Çeçen University to assess the site.
Between 2014 and 2019, their ground-penetrating radar surveys found walls made of limonite stones from several right angles.
Source: Read Full Article