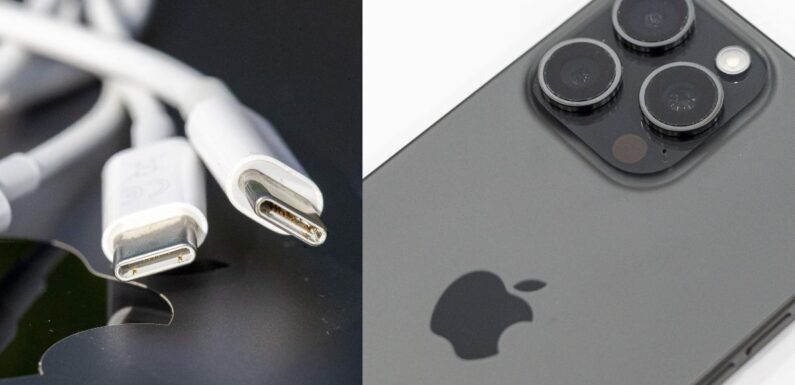 Apple announce all products will be 'Net Zero' by 2030
iPhone 15 users have been issued a horror warning over using the wrong USB-C cable, which could ruin your phone forever if you're not careful. 
Apple's brand-new product drops on September 22 and features a USB-C charging port for the first time.
The addition marks a major shift away from Apple's Lightning connectors seen in earlier iPhone models.
While this spanking new feature may be appealing, users have been urged to beware.
That is because USB-C cables and plugins can come with fewer protections for your phone than Apple's official Lightning cables.
For all the latest on news, politics, sports, and showbiz from the USA, go to Daily Express US
READ MORE Best iPhone 15 deals: Get £715 off + FREE Disney Plus
Apple has urged iPhone owners to use Apple chargers or other brands that meet specific safety regulations.
If you use one that does not meet these requirements, you could put your iPhones at risk.
Jessa Jones, the owner of the mobile device repair shop iPad Rehab, told the New York Times: "High-quality chargers are essentially electronics with tiny circuit boards inside them.
"On Apple's official Lightning cable, there are two chips: One authenticates that the cable is made by Apple, while the other acts as a fuse that isolates damage to the charger.
"In the event of a power fluctuation, for example, only the charger would be destroyed and not the phone itself."
The US firm is no stranger to USB-C technology, already using the port on its iPads, MacBooks and Beats headphones.
Luckily, users will only need a single cable to refill multiple gadgets.
But if you do not own a USB-C, Apple is selling a USB-C adapter on its website for $29 to connect the Lightning charging cables for current iPhones to your new one.
We use your sign-up to provide content in ways you've consented to and to improve our understanding of you. This may include adverts from us and 3rd parties based on our understanding. You can unsubscribe at any time. More info
Don't miss…
Apple slashes price of popular product to £80.60 after iPhone 15 announcement[LATEST]
iPhone 15 exclusive – we try Apple's new smartphones[REPORT]
iPhone 15 pre-orders at Vodafone, EE, Sky, O2 and Three: what you need to know[DEALS]
The USB-C may also improve charging speeds and refill batteries faster.
The new charger is not the only addition to Apple's latest mobile.
One of the highly anticipated features of the new iPhone 15 was the so-called "name drop" feature allowing users to share contacts by simply bringing two iPhone devices together.
The mobile is now available to pre-order starting at $799 and has the same 6.1-inch display and video capacity as the iPhone 14.
Follow our social media accounts here on facebook.com/ExpressUSNews and @expressusnews
Source: Read Full Article