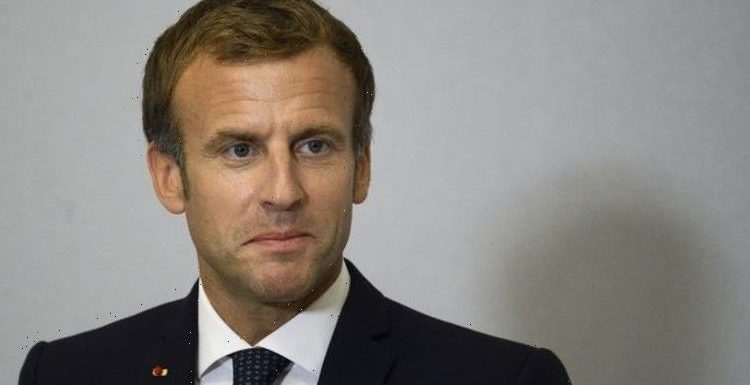 Macron 'won't fill Merkel role' says Professor Bricmont
We use your sign-up to provide content in ways you've consented to and to improve our understanding of you. This may include adverts from us and 3rd parties based on our understanding. You can unsubscribe at any time. More info
The French President said he believes conspiracy theories are a "poison" to French society, and the Enlightenment in the Digital Era has been drawn up to combat this. Members will include 15 academics, as well as journalists, teachers and lawyers.
Mr Macron has asked them to produce a report on topics including how to prevent internet algorithms "enslaving" society, how advertisers exploit fake news and how to prevent foreign rival powers from spreading information.
But he has been criticised by some for trying to impose an "official" narrative to secure a second term in office against far-right populists like his political rival Marine Le Pen, the leader of the National Rally, in the build-up to French presidential elections in April.
Mr Macron beat Ms Le Pen in the previous presidential elections back in 2017 to become France's youngest-ever president at 39 years old.
He has also been challenged by Éric Zemmour, who has been described as France's Donald Trump, as he tries to rise to political power following his stint as a television personality
Mr Macron said in a TV interview that conspiracy theories are a "key problem" for France which is battling the perspective that "all views are equal, that those of someone who is not a specialist but who has an opinion on the coronavirus are just as valid as those of a scientist".
But Francois-Bernard Huyghe, a political scientist at the Institute for International and Strategic Affairs in Paris, has slammed Mr Macron's new commission.
He said: "I don't think that multiplying laws, censoring social media accounts or treating people as cretins is the solution.
"It provokes the opposite effect to the one desired and the feeling that something is being hidden."
But Gerald Bronner, the sociologist appointed to chair the commission, has rejected claims that he was in effect in charge of a "thought police".
He said: "There is no question of censorship but of strengthening the space for common debates that are increasingly threatened by a succession of opinions."
France suffers a big problem with the anti-vaccination movement that has proved rampant among its population.
DON'T MISS
'Forget UK fuel crisis!' China energy shortage to spark global impact [INSIGHT]
Germany faces worse gas crisis as Britain outsmarts Putin [REVEAL]
Archaeologists find Hitler's 3,300mph 'superweapon' buried in Kent [REPORT]
The movement has organised large rallies over the summer and promoted widespread discontent during the yellow-vest protests that peaked in early 2019.
In a YouGov poll in January, results showed that France was more prone to conspiracy theories than the UK.
Those who took part in the survey were asked if they thought that people "secretly ruled the world", to which 36 percent of the French agreed, while only 28 percent of Britons surveyed thought that this was the case.
Source: Read Full Article