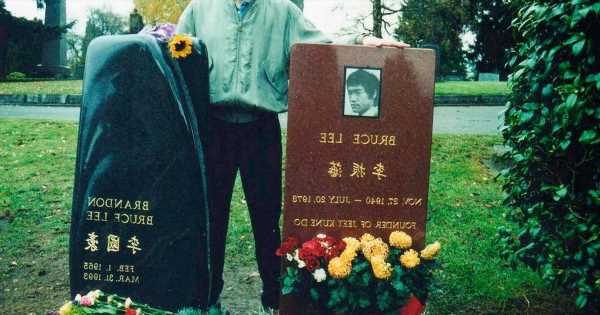 One man's obsession has sent him to more than 700 graveyards across the world, shelling out £160,000 along the way.
Mark Dabbs' determination to track down the final resting places of the rich and famous has taken over his life.
His all-consuming hobby has taken him far and wide, seeking out the graves of historical figures and celebrities and "meeting" the occupants.
READ MORE: Sex worker lifts lid on brothel's kinky dress code – and its 'no pants' rule
Among the array of famous graves the 49-year-old has visited are those of John F. Kennedy, in Washington D.C., and Marilyn Monroe in Los Angeles.
And he has no plans to stop.
Nurse Mark said: "In the UK, I've probably visited hundreds of famous graves, I've visited all of our Prime Ministers' graves – apart from the three that didn't have graves.
"I loved seeing Sir Roger Bannister the athlete in Oxford.
"However, you cannot possibly do Scotland without Robert Burns, poet, Jim Clark, racing driver, and J. M. Barrie, author of Peter Pan. I'm very interested in history and world affairs and I would like to get back to Moscow to get Stalin as I have Churchill and Roosevelt."
Ten tonnes of dead fish pulled from 'toxic' river after 'gigantic catastrophe'
He added: "I have had many interesting talks with people when I have tried to find the graves and many are really interested."
But it hasn't been all plain sailing on his travels. He said: "When I went to Oyster Bay to find Theodore Roosevelt's grave there was nobody there, but it was behind railings and the gate was closed.
"I found a metal ladder
nearby – they were doing some work – and climbed over to get the shot, but then the ladder fell.
Mark, from Wolverhampton, added: "I thought I would be trapped in there for hours. I managed to hook the bottom rung with my tripod and pull it over.
"You can bet I was so, so relieved to be getting out of there!"
READ NEXT:
Russia and China 'prepared to go further' with AI weapons for WW3 advantage, expert says
Monkey 'gang' member hunted down and killed after terrorising town and wreaking havoc
First pic of man and woman charged after Liverpool city centre sex video goes viral
Evil dad Chris Watts reveals shocking truth behind killing family in sickening letters
Police raid Chinese man's house after dodgy laptop leads to porn studio bust
Source: Read Full Article