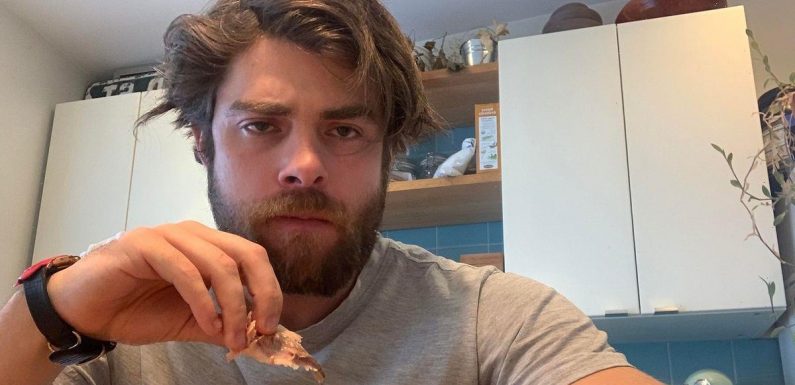 An American man has described his peculiar mission to eat 40 chickens in as many days.
Alexander Tominsky, 31, revealed trials and tribulations as he tried to stick to a chicken-only diet as he admits that it caused stomach pains.
The meaty mission began as a way of making himself feel "uncomfortable" which is "necessary in life" as he set upon the unenviable task of downing a chicken a day.
READ MORE: 'World's worst McDonald's' to close as 'pure chaos' caused 'thousands' of police calls
As the days passed he evan began to question his own sanity, telling the Guardian: "It was interesting seeing the way something that was initially enjoyable could, with enough repetition, turn you off. There were times when I asked myself if I was out of my mind."
But despite reportedly suffering from heartburn and drained energy, the bizarre diet actually led to him unintentionally losing 15 pounds.
The initial plan was to last for 30 days but he was prompted to keep going after starting to gain attention online.
By the final day, Tominsky's efforts attracted a crowd of 500 people to an abandoned pier in his hometown of Philadelphia where they celebrated his 'achievement'.
He said: "People were cheering, there was fire in their eyes, looks of pure joy and excitement. It was one of the best moments of my life. I set up a red carpet. I was anxious: I had nightmares leading up to that day."
Alexander was so blown away by the response he got online and from the hundreds that turned out that he decided that his efforts must have a lasting impact.
So, he decided he wanted to give something back to the local community, he said: "We were able to encourage the restaurant chain Boston Market to donate more than 250 meals, and we're hosting an event where people who need it can get a hot meal."
For the latest breaking news and stories from across the globe from the Daily Star, sign up for our newsletter by clicking here.
READ NEXT:
Father and son left plane passenger with 'horrendous injuries' in row over seat position

'I was mugged at Tesco by a seagull in scene like Alfred Hitchcock's The Birds'

Ryanair chaos as flight hit with bomb threat sparking fighter jet escort operati on
Source: Read Full Article