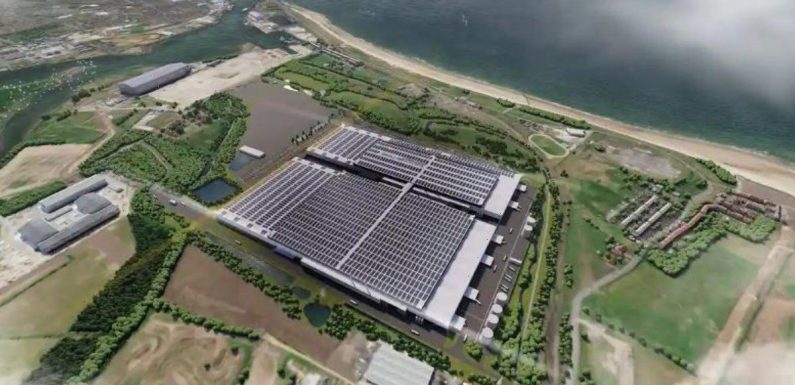 We use your sign-up to provide content in ways you've consented to and to improve our understanding of you. This may include adverts from us and 3rd parties based on our understanding. You can unsubscribe at any time. More info
The UK's electric vehicles dreams have been handed a fresh lifeline after an Australian startup won the bid to take over the collapsed UK battery company Britishvolt. The company, which went into administration last month, was building a £3.8billion gigafactory in Blyth, Northumberland, which was set to produce batteries for electric vehicles (EV), providing a massive boost to the UK's plans to phase out petrol and diesel cars by the end of the decade. Within a fortnight of the company collapsing, Recharge Industries offered an an aggressive package that includes plans to revive and build the gigafactory in the north of England.
The company is backed by New York investment firm Scale Facilitation and is already going ahead with plans to build a similar battery plant in Geelong, near Melbourne.
Recharge Industries beat three other offers to become the preferred bidder to take over Britishvolt from EY, which is the administrator for the battery startup. However, the deal still needs to be finalised, according to the Guardian, which will trigger a process of paying back creditors.
Scale Facilitation's Australian-born founder and chief executive, David Collard said in a statement: "We're thrilled to be progressing with our proposed bid for Britishvolt and can't wait to get started making a reality of our plans to build the UK's first gigafactory.
"After a competitive and rigorous process, we're confident our proposal will deliver a strong outcome for all involved."
If the takeover is successful, this means that Recharge will build Britishvolt's planned gigafactory while also developing its previous plans to build a battery facility in Australia.
Launching the bid last Tuesday, Mr Collard said: "Strengthening our friends in the UK, especially when most others are kicking them when they're down, is in our interest and definitely in the spirit of (Australia-UK-US security pact) Aukus."
Speaking to the Australian Financial Review, he added that keeping Britishvolt going is "critical to the security of British and European supply chains".
Mr Collard said: "Keeping Britishvolt viable and in the hands of friendly nations and companies is critical to the security of British and European supply chains and advanced manufacturing capabilities.
The bid to keep the UK's gigaplant dreams alive is significant as it is generally believed that the UK "needs a local source" of batteries to boost the local automotive sector.
Britishvolt's former executive chairman previously explained: "The UK automotive industry needs a local source of batteries. Chinese or other Asian imports are not going to be an option. There will be very, very significant shortfalls of batteries. We are absolutely vital to maintain the UK industry and support those jobs."
"Recharge Industries has done in 18 months what Britishvolt has struggled to do in three years working by themselves. By combining, we can put the sort of acceleration into Britishvolt that you'd expect from the best EV on the market."
Recharge's pitch to the administrations was focussed on the strategic and diplomatic ties between Australia and the UK and received support from Westminister's trade envoy for Australia, ex-English cricketer Ian Botham.
DON'T MISS:
Face of 9,500-year-old Palestinian man brought back to life [REPORT]
Putin poised to target UK-Norway energy supplies with new weapons [INSIGHT]
Last call for Covid boosters for adults under-50, NHS warns [REVEAL]
THIS IS A BREAKING STORY. MORE TO FOLLOW
Source: Read Full Article