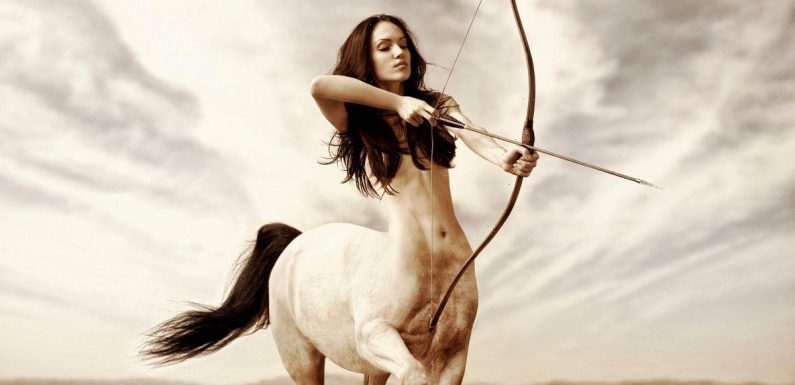 A mysterious social media user, who claims to be a "time traveller from the year 2858", has claimed scientists at Area 51 will bring a mythical creature to life later this year.
The user, who posts under the username @darknesstimetravel, has gained more than 6,000 followers by posting outlandish claims about future events – with everything from wormholes to the creation of mythical creatures.
In a recent video, the user claimed scientists at America's Area 51 base are working on "merging" various species together and will create the "world's first centaur" this year.
READ MORE: 'Time traveller from 2858' claims 'human bones will be found on Mars' this year
A centaur is a creature from Greek mythology with the upper body of a human and the lower body and legs of a horse.
In the video, which has gained more than 21,300 likes, the alleged time-warper wrote: "ATTENTION! I am a real time traveller from the year 2858, remember these 5 dates to come in 2023.
"March 30: A passenger plane "crashes", but really went through a wormhole for 6 years.
"April 23: A very large meteor shower occurs, meteorite makes it to the ground containing alien life.
"May 13: A rare occurrence causes the moon to turn pink, make sure to not look directly at it.
"July 2: 6 people receive 'superpowers' due to rare and powerful energy from the sun.
"September 22: The first 'centaur' will be created at Area 51, where they are working on merging many species."
TikTok viewers were left flabbergasted by the claims as they took to the comments to debate over whether it could come true or not.
One user wrote: "Bro on my birthday? MARCH 30?!"
For the latest breaking news and stories from across the globe from the Daily Star, sign up for our newsletter by clicking here.
Another argued: "Guys these are based off the movies and TV shows I literally watched them."
A third commented: "Bro these happen every year."
"Bro randomly generated 4 numbers to decide what year he's from," a fourth said.
Others tried to quiz the user about events that will happen in "his own time" but the creator has not responded.
READ NEXT:
'Time traveller from 2906' claims 'new world' will be discovered sparking 'war'
'Time traveller' warns 'hostile aliens that built the pyramids' will return soon
'Time traveller' claims 'huge meteor will wipe out US' in stark warning for next decade
'Time traveller' claims scientists will make contact with aliens in 2023
Source: Read Full Article