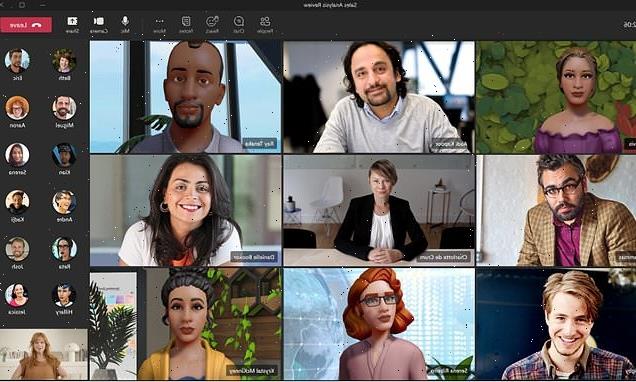 Move aside, Meta! Microsoft pushes towards its own 'metaverse' as it adds 3D virtual avatars to its Teams chat system
Microsoft has revealed it's bringing its mixed reality platform Mesh to Teams
It will allow Teams users to appear as their own customised 3D virtual avatars
Mesh for Microsoft Teams will begin rolling out next year, according to the firm
It'll be available on smartphones and laptops, as well as mixed-reality headsets
Microsoft is making meetings on its chat platform Teams a whole lot more immersive, in a bid to rival Facebook's 'metaverse'.  
The technology giant has announced it's rolling out Mesh – its recently-announced mixed reality platform – to Teams from early next year.
This will mean Teams users will have the option to appear as a customised 3D virtual avatar, in Microsoft's own version of a virtual shared space known as the metaverse. 
Teams users will therefore be able to turn of their webcam if they don't want their fellow chat participants to see their face, and display their avatars instead.  
Mesh for Teams will be available on standard smartphones and laptops, as well as mixed-reality headsets, in the first half of 2022. 
Mesh for Teams users will be able to join a standard Teams meeting as a customised avatar of themselves instead of as a static picture or on video 
What is the metaverse?
The 'metaverse' is a set of virtual spaces where you can game, work and communicate with other people who aren't in the same physical space as you. 
Facebook explained: 'You'll be able to hang out with friends, work, play, learn, shop, create and more. 
'It's not necessarily about spending more time online — it's about making the time you do spend online more meaningful.'
While Facebook is leading the charge with the metaverse, it explained that it isn't a single product one company can build alone. 
'Just like the internet, the metaverse exists whether Facebook is there or not,' it added. 
'And it won't be built overnight. Many of these products will only be fully realized in the next 10-15 years.' 
The announcement follows Facebook rebranding itself Meta last week, as part of its long-term project to turn its social media platform into a 'metaverse' – a collective virtual shared space featuring avatars of real people. 
In the future, the metaverse will be accessible with virtual reality (VR) and augmented reality (AR) headsets and smart glasses, and could be used for work, education, gaming and even music events.  
Microsoft launched its Mesh platform in March this year. Mesh allows people in different physical locations to share holographic experiences using the firm's HoloLens headset.
Teams, meanwhile, allows join virtual meetings, send chats, collaborate on shared documents. Similar to Zoom, it soared in popularity during the Covid-19 pandemic due to remote working. 
Bringing the two together will make collaboration more 'personal and fun', according to Microsoft. 
'Mesh for Teams – which anyone will be able to access from standard smartphones and laptops to mixed-reality headsets – is designed to make online meetings more personal, engaging and fun,' said Microsoft in a blog post. 
'It's also a gateway to the metaverse – a persistent digital world that is inhabited by digital twins of people, places and things. 
'Think of the metaverse as a new version – or a new vision – of the internet, one where people gather to communicate, collaborate and share with personal virtual presence on any device.'
Virtual reality is a computer-generated simulation of an environment or situation.
It immerses the user by making them feel like they are in the simulated reality through images and sounds.
For example, in VR, you could feel like you're climbing a mountain while you're at home.
In contrast, augmented reality layers computer-generated images on top of an existing reality.
AR is developed into apps to bring digital components into the real world.
For example, in the Pokemon Go app, the characters seem to appear in real world scenarios.
While Mesh requires the use of a headset, Mesh for Teams will not (although headsets will be an option along with standard smartphones and laptops).
Mesh for Teams users will be able to join a standard Teams meeting as a customised avatar of themselves instead of as a static picture or on video.
Artificial intelligence (AI) will imitate movements and gestures to animate the avatars, making sure people's physical presence is brought to chat conversations even when their camera is off, according to Microsoft. 
The technology will also use audio cues from people's voices, so that as users talk their avatar face will animate appropriately. 
Organisations can also build immersive spaces – metaverses – within Teams.
'Mesh for Teams users can take their avatars into these spaces to mix and mingle, collaborate on projects and experience those serendipitous encounters that spark innovation,' the firm said. 
Microsoft has already been building Mesh-enabled immersive spaces for professional services company Accenture – including a virtual campus where employees gather for coffees, presentations, parties and other events.
Any company's immersive working space in the metaverse could include a virtual wall for presentations, a whiteboard displaying tasks or a table displaying product prototypes.  
A chat between two people on Mesh for Teams could have one participant showing their actual face, and the other their avatar – perfect for when we're looking worse for wear
Microsoft launched its Mesh platform in March this year. Mesh (pictured here in action) allows people in different physical locations to share holographic experiences using the firm's HoloLens headset
Jeff Teper, Microsoft corporate vice president, likened the current experience in Teams – having your face displayed in a grid – to the opening titles of 1970s American sitcom 'The Brady Bunch'. 
'Being in that space together reinforces that sense of "Hey, we're driving and driving toward a goal" in a way that a meeting within the Brady Bunch grid without any of the recurring artifacts doesn't,' Teper said. 
'The immersive space reminds us of the iterative purpose of our team. I think that's how we can use this technology to break through.'
Microsoft said Mesh for Teams will continue to evolve following its launch, as sensor technology improves across devices, from phones to laptops, VR headsets, and 'a HoloLens with six microphones and 16 cameras'. 
FACEBOOK – NOW KNOWN AS 'META – ANNOUNCES 10,000 EU JOBS TO BUILD ITS 'METAVERSE' 
Facebook has been slammed by users after it announced plans to hire 10,000 people in the European Union to develop a so-called metaverse – a virtual reality version of the internet where people can game, work and communicate.
The tech giant's CEO Mark Zuckerberg has been a leading voice on the concept, which would blur the lines between the physical world and the digital one.  
It could allow someone to don a virtual reality headset to make them feel as if they're face-to-face with a friend, despite being thousands of miles apart and connected via the internet.
'The metaverse has the potential to help unlock access to new creative, social, and economic opportunities. And Europeans will be shaping it right from the start,' Facebook said in a blog post.
'Today, we are announcing a plan to create 10,000 new high skilled jobs within the European Union (EU) over the next five years.'
The tech giant said the new roles will include 'highly specialised engineers' but did not reveal any more detail about its plans for the new metaverse team. 
Not everyone is impressed with the announcement, however, with many users suggesting Facebook should focus on hiring more moderators and tackling the spread of misinformation on its platforms, rather than splashing cash on the metaverse.
Ben Sizer, a software engineer from Nottingham, tweeted: 'Facebook is a company that has roughly 15,000 moderators who are mostly underpaid outsourcers. 
'Yet today they announce they will be hiring 10,000 'highly specialised' engineers to create 'the metaverse'. It's all about their priorities, not their capabilities.'
Another Twitter user wrote: 'Facebook seems to find the money and time for their 'metaverse' project but when it comes to tackling hate speech and misinformation on their platform, they really couldn't be bothered.' 
Investing in the EU offers many advantages, Facebook said, including 'a large consumer market, first class universities and, crucially, top quality talent.' 
The announcement comes as the company deals with the fallout of a damaging scandal, major outages of its services, and calls for regulation to curb its influence.  
Source: Read Full Article