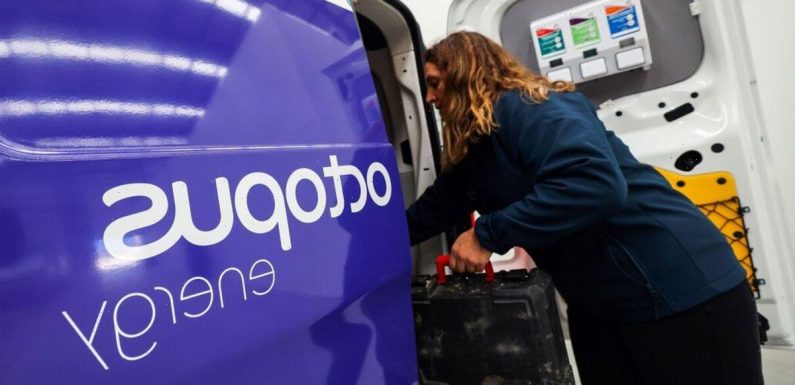 Bentley CEO reveals they're moving to electric cars
We use your sign-up to provide content in ways you've consented to and to improve our understanding of you. This may include adverts from us and 3rd parties based on our understanding. You can unsubscribe at any time. More info
Octopus Electric Vehicles, which is part of Octopus Energy, told Express.co.uk, that as UK drivers switch away from petrol and diesel cars, the country could save an estimated £20billion in costs to the NHS. Touting the many benefits of electric cars, Fiona Howarth, the head of Octopus EV, said that by switching away from fossil fuel cars, EV drivers are able to save over £1,000 a year by charging at home instead of filling up with petrol. More drivers are switching to greener vehicles, as the Government has announced a commitment to ban the sale of new petrol and diesel cars in 2030.
In the days after Britishvolt, the company building the UK's first EV battery gigafactory, went into administration last month, many critics slammed the UK's transition away from petrol and diesel cars.
Ms Howarth rejected these statements, noting that despite Britishvolt's fall, the UK will see incredible benefits from switching to electric vehicles, both for individual drivers, as well as for the economy.
She told Express.co.uk: "There are three things that I point to, which are really important. One is transport is nearly a quarter of the UK's emissions.
"So as we want to live in a more sustainable world that doesn't have as frequent weather impacts, etc and supports the UK and global population we really need to take an ambitious view on how we tackle that.
Michael Gove grilled by Hartley-Brewer on car ban cost
"Secondly, 40,000 people die in the UK every year due to air pollution, and that's costing the NHS £20billion every year. So we also should be tackling that and this goes a long way to tackling that by cleaning up the air."
The figures come from a 2016 report by the Royal College of Physicians, starkly sets out the dangerous impact air pollution is currently having on our nation's health.
According to the report, every year in the UK, around 40,000 deaths are attributable to exposure to outdoor air pollution which plays a role in many of the major health challenges of our day.
In 2021, 13 percent of the UK's (PM2.5) particulate matter emissions came from transport, causing air pollution that's been linked to cancer, asthma, stroke and heart disease, diabetes, obesity, and changes linked to dementia.
The health problems resulting from exposure to air pollution have a high cost to people who suffer from illness and premature death, to our health services and to business. The report noted that n the UK, these costs add up to more than £20billion every year.
Ms Howarth continued: "The third part is around the locus of driving. So actually, the majority of people taking EVs are charging at home, and if they do that on a tariff, for example, like intelligent octopus, they can reduce their petrol board by up to 85 percent.
"That's the equivalent of over 1000 pounds for the average UK driver. So the average UK driver can switch and save 1000 pounds every year and fuel. That's a significant impact, particularly in the kind of era of cost of living prices.
"And that will only continue to increase with benefits with the cost of EVs coming down because obviously, we're still early in the kind of growth of those and the manufacturing of those vehicles."
DON'T MISS:
Twisted eye vessels linked to high blood pressure and heart disease [REPORT]
Oldest examples of 'sophisticated' stone tools found at site in Kenya [INSIGHT]
Sturgeon humiliated as Scotland missed '£60bn surge from energy deal' [REVEAL]
The Intelligence Octopus scheme allows drivers to save on their energy and fuel bills, as a smart app will ensure that the vehicle is recharged at times of the day when the electricity is the cheapest.
This could also play a role in balancing the National Grid, as the scheme will ensure that the car is being charged in the middle of the night, rather than at 5pm in the evening, when the Grid is under most demand.
Ms Howarth said: "So the cost of the vehicles have come down quite significantly still in the next few years. And so we'll have long-term local driving, there's also run off homegrown energy sector.
"So if you think at the minute we're importing a loss of fossil fuels to power transport, actually in this world, we can power it off locally homegrown green energy, which is also run off locally sourced jobs, you know, that helps our local economy as well."
Source: Read Full Article