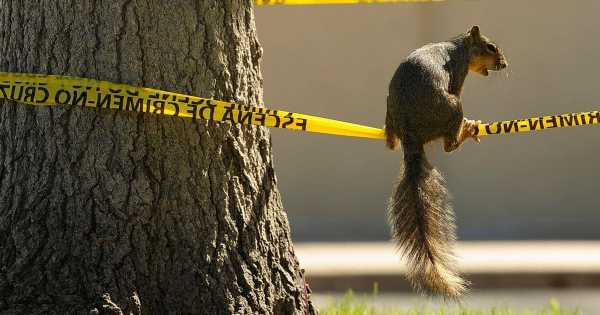 Police forces in one city in China are training an army of drug-sniffing squirrels to help them fight crime.
Officers in the southwestern Chinese city of Chongqing, China now has a team of six red squirrels in their elite narcotics division.
The fluffy trailed operatives are being used to locate drugs in even the smallest spaces at warehouses and storage units.
READ MORE: Bizarre sheep spotted in UK with one horn dubbed 'Ewe-nicorn'
Chinese media outlet People's Daily reported that images of the squirrels at work, scratching boxes and searching for items, were shared online.
In some clips, the squirrels are seen darting between boxes and canisters of similar sizes and colours, before pausing to sniff them.
The publication added that the Chongqing police said that these squirrels are small and agile, and able to search through tiny spaces in warehouses and storage units that dogs cannot reach.
A spokesperson for the force said that the squirrels have been trained to use their claws to scratch boxes to alert their handlers if they detect drugs.
Yin Jin, a police dog handler assigned to train the squirrel squad, said: "These squirrels have an acute sense of smell.
Tentacled snake-like sea creature that causes 'severe toxic skin reaction' found in UK
"But in the past, our training problems for small rodents were not developed enough to attempt a program like this".
Speaking to the Global Times, Yin said the training program developed for the squirrels in Chongqing can also be used to train other animals to sniff out drugs.
It comes as the country enforces their zero-tolerance policy towards drugs. In 2021 a Chinese embassy spokesperson described drug trafficking as "the common enemy of mankind."
To stay up to date with all the latest news, make sure you sign up to one of our newsletters here.
READ NEXT:
Terrified cat owners fear 'phantom cat shaver' back as more trimmed Moggies show up

Perfectly frozen shark washes up on beach terrifying stunned passersby

Woodpecker hoarder's 317kg acorn stash crashes through wall of home in 'unreal' find
Source: Read Full Article