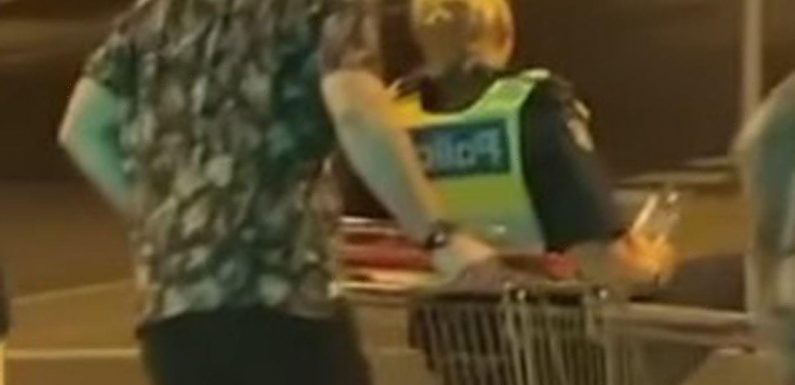 An on-duty cop who was pushed around a roundabout in a shopping trolley by a bloke on New Year's Eve has escaped punishment from her force.
Late last year, footage went viral of the fun-loving copper spinning about with a bloke in a dad shirt in the town of Cowes on Phillip Island, Victoria, Australia.
As the "doughnut-loving" officer does loops around the roundabout drinkers cheer and her own colleagues video the excitement.
READ MORE: Putin 'to name chosen heir this year then retire to palace with pole dancing room'
But after the footage was posted by the Brown Cardigan Facebook page, the incident attracted a mixed response.
Responding to the post titled 'Nothing to see here, just some doughnut-loving coppers', there were some people who praised the copper for "letting her hair down" and the reaction in general was overwhelmingly positive.
Others, however, didn't see it like that and called for action against her.
"I'm sure many of them have booked people doing the same thing," one woman said, while another accused the officers of trying to drum up "good PR".
Victoria Police said they were aware the video and had "identified the officers involved" and added that they were "addressing" the matter.
"Victoria Police are supportive of members positively engaging with the community but not at the risk of their own safety or other road users," the statement added.
Russian air defences claim to have shot down a 'UFO' near the Sea of Azov
However, a statement published by the Herald said that no further action would be taken.
"The matter was dealt with at a local level, with conversations held with the officers in the days following the incident.
"This workplace guidance included reiterating the safety risks."
In 2016, two Thames Valley Police police officers were spotted by revellers in Newbury town centre larking around in a shopping trolley.
The officers' antics were criticised by the TaxPayers' Alliance.
Chief executive Jonathan Isaby said: "People like to see bobbies on the beat but preferably on their own two feet rather than being pushed around in a shopping trolley.
"There's a time and a place for having a bit of fun but many residents will raise an eyebrow at these antics if these officers were actually on duty."
READ NEXT
Bizarre Putin-loving Russian psychic claims 'finale' of Ukraine war is coming soon
Ukrainian soldier to 'go down in medical history' after grenade pulled from chest
Putin hands charge of Ukraine invasion to feared army general amid health doubts
Russia and Ukraine's latest fight dubbed 'Battle of the Frozen Ice Meat Grinder'
Source: Read Full Article