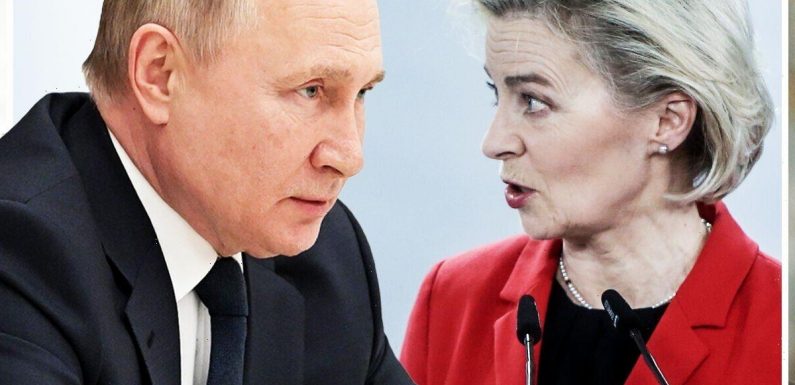 Gas prices: Putin 'going to keep squeezing' says expert
We use your sign-up to provide content in ways you've consented to and to improve our understanding of you. This may include adverts from us and 3rd parties based on our understanding. You can unsubscribe at any time. More info
European gas prices will not return to the astronomically high levels seen in 2022 following Russia's war in Ukraine, the head of one of Europe's major energy companies has said. Households across Europe have been burdened with higher energy bills over the last year due to the record-high wholesale gas and electricity prices sparked by supply constraints and the slashing of the normal amount of imports arriving from Russia.
However, over the last few months, prices have plunging. In fact this week, they dropped to an 18-month low, hitting levels not seen since before the conflict in eastern Europe broke out back in mid-February of 2022. But not only were prices impacted by Russian President Vladimir Putin's illegal war, but so too were they affected by issues with France's nuclear fleet, analysts say.
According to Markus Krebber, the head of Germany's biggest utility RWE, we can expect the situation to remain calm now that this issue has been resolved.
He told Reuters: "The situation on the gas market is currently no longer so tense, mainly because the winter was mild and French nuclear energy came back as planned Will we see gas prices of 350 euros/MWh in Europe again? I don't think so."
This comes after relatively mild weather, efforts to shore up supplies from alternative producers and the filling up of storage sites helped to calm the markets.
Gas storage remains around 65 percent full, helping to slash reliance on Russian supplies (the EU got 40 percent of its gas from the Kremlin prior to its Ukraine invasion).
Germany in particular was one of the most dependent European nations on Russia's gas, but is now set to have six floating liquid natural gas (LNG) import terminals in operation by the end of the year, Before Russia invaded Ukraine, it did not have a single one.
Two have been set up in the country so far, with three more in the Netherlands, Greece, Finland also having been constructed. Together, the built terminals provide the EU with an extra 30bcm of gas import capacity. With more set to come online this year and next, this capacity will only increase.
Henning Gloystein, at consultancy Eurasia Group, said this week: "Europe looks like it has successfully weaned itself off Russian gas."
However, he added that while gas was "still expensive", it "no longer needs to price in the risk of outright shortages".
It is also important to note that Russia started to reduce its gas flows to Europe before invading Ukraine, triggering higher prices before February 2022.
The gas benchmark peaked at more than €300/MWh (£266.92) in August 2022 but dipped below €50 (£44.51) per megawatt hour down to €48.90/MWh (£43.51) for the first time in nearly 18 months.
On Tuesday, European Energy Commissioner Kadri Simson said the EU had "won the first battle" of the "energy war" with Russia after managing to end the winter heating season with strong reserves — over 50 percent of the EU's 100bcm or so total storage capacity.
DON'T MISS
UK's heat pump goals face major hurdles as Britons stick to boilers [REPORT]
'Guilt-free' flights the goal of £113m funding for zero emission tech [INSIGHT]
Octopus Energy grows largest UK virtual power plant to slash bills [REVEAL]
This helps to rid the bloc of gas shortages in the short term and erases some of the doubts over its energy security going into next winter.
A Commission assessment reads: "The expected high level of storages at above 50 percent [at] the end of this winter season will be a strong starting point for 2023/24 with less than 40 percent to be filled (against the difficult starting point of around 20 percent in storage at the end of winter season in 2022."
Meanwhile, the EU's will need to refill storage to the new 90 percent target ahead of next winter, which may depend on the reduction in gas consumption. This measure was voulnatirly agreed on by the bloc as part of efforts to slash reliance on Russian supplies.
Source: Read Full Article