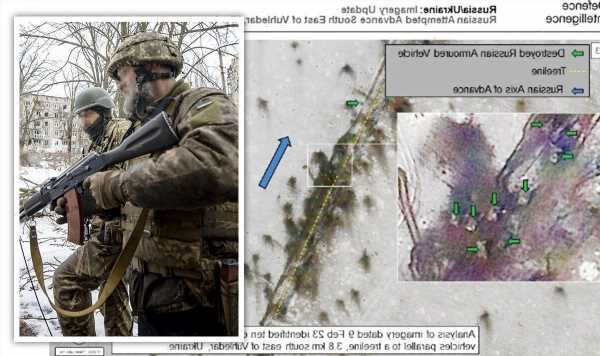 Newly released satellite images appear to show that an elite Russian infantry unit has taken extremely heavy damage in the Ukrainian town of Vuhledar. Up to 10 armoured vehicles belonging to Russia's 155th Naval Infantry (NI) appear to have been destroyed in a "costly offensive, images released by British military intelligence have revealed.
The damaged vehicles can be seeing lying by morter craters in the snow just south east of the Ukrainian town. Vuhledar a coal-mining town in the Donetsk region that lies just 100 miles south west of Bakhmut, has become one of the key areas involved in Russia's renewed offensive to take hold of more territory in the Donbas.
But according to the Ministry of Defence, the NI brigade involved in these offensives has a major blow.
It said in a statement: "These vehicles were likely elements of Russia's 155th Naval Infantry (NI) Brigade which has been at the forefront of recent costly offensives.
"The supposedly enhanced capability of NI brigades has now almost certainly been significantly degraded because it has been backfilled with inexperienced mobilised personnel."
Earlier this month, Ukraine defence sources claimed that Russia may have lost an entire brigade of the elite 155th naval infantry during its offensive in the town.
Oleksiy Dmytrashkivskyi, head of the united press center of the Tavriskiy District of Ukrainian defense forces told Politico: "A large number of enemy forces, including the command staff, were destroyed near Vuhledar and Mariinka in Donetsk Oblast.
"In addition, over the past week, the enemy lost about 130 units of equipment, including 36 units of tanks."
He added that Russian forces also were losing 150-300 marines a day near Vuhledar.
According to the Institute for the Study of War, Russian tactical failures near Vuhledar have likely dealt a blow to the Russian ultranationalist community's belief that the Kremlin is capable of launching a decisive offensive operation.
Meanwhile, Pro-Moscow military bloggers have been lashing out at the Russian command for sending in elite troops in frontal attacks.
For instance, Russian former paramilitary commander Igor Girkin, who was sentenced to life in prison in absentia for the downing of MH17 passenger flight back in 2014, has said that Russian generals are "complete morons, who don't learn from their own mistakes" in a Telegram blog post.
He wrote: "Ukrainian artillery shoots exceptionally accurately. More than 30 units of armored vehicles were lost. Dozens of tankmen were killed. Even more marines, special forces, and motorized riflemen died. All these losses turned out to be 'one-sided' — the Ukrainians shot the attackers like in a shooting gallery."
But in an interview with the Russian website 7×7 published on February 13, a man identified as a member of the 3rd Company of the 155th Brigade claimed that just eight members of the unit survived the assault near the town earlier this month. He argued that up to 500 soldiers in total could have been killed.
The unnamed soldier said: "Those who survived are being called deserters. It would have been better if I had been captured and just never returned. Moods are the worst. They wasted 500 people already, maybe more."
DON'T MISS
Sunak urged to rejoin £84bn EU scheme as 70% firms plot UK exodus [REPORT]
Rolls-Royce warns UK risks slowing pace of new nuclear plant rollout [INSIGHT]
Brits set for 'cheapest energy bills in Europe' as new plan unveiled [REPORT]
But Mr Dmytrashkivskyi said: "The 155th brigade already had to be restaffed three times. The first time after Irpin and Bucha; the second time they were defeated near Donetsk — they recovered again. And now almost the entire brigade has already been destroyed near Vuhledar."
Despite these defeats, the General Staff of Ukraine's armed forces said Russia is persisting with its attacks in this area.
In a daily update on Sunday, it said Russia performed "unsuccessful offensives" near six settlements, including Yahidne and Berkhivka, in the Donetsk region, which Moscow says it has annexed.
Meanwhile, Russian forces are continuing to storm Ukrainian positions near Vuhledar, Avdiivka and Bakhmut. On Sunday alone, Russian troops reportedly shelled the areas of 22 settlements along that section of the frontline in Donetsk
According to military experts, Russia appears to be interested in taking Vuhledar due to its relatively high elevation which makes it optimal for staging artillery and rocket systems. Taking control could give the Russians access to the east-west T-0509 highway, which leads onto a larger highway linking the port of Mariupol and the major city of Donetsk.
Source: Read Full Article