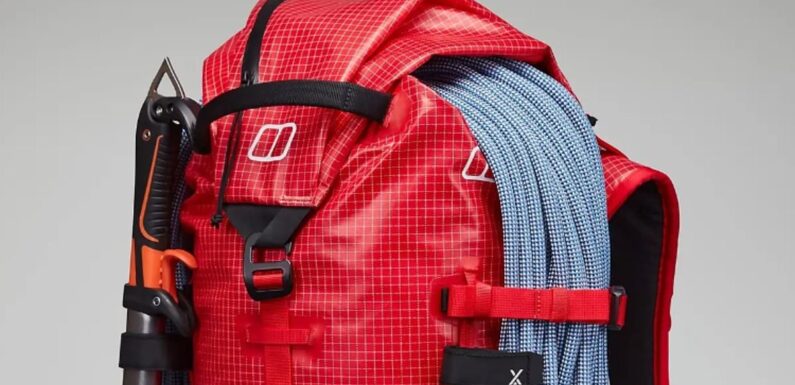 Scaling Scotland's greatest mountain to put Berghaus' new range to the ultimate test
Puffing and panting after a hard scramble we finally reached the ridge line on one of Scotland's greatest mountains.
Exposed in the cloud and with the wind cutting across us it was time to layer up, and fast. I reached into my pack and yanked out my Berghaus Deluge Pro 2.0 jacket pulling it on as the rain started to hit us.
We had moved fast and light while ascending the mighty An Teallach, in the north west Highlands, and now our next challenge was facing us – successfully crossing the ridge as the cloud closed in.
The goretex waterproof – which looks great in black – weighs just 340g and more than kept the elements at bay.
It is no surprise that the jacket is made from 50% recycled content given sustainability is a hallmark of Berghaus products.
The Berghaus MTN Seeker 32L looks like it would be at home on the slopes of Everest
The Berghaus Deluge Pro 2.0 jacket has a two layer hydroshell to protect you from the rain
It is a tidy fit too which importantly doesn't billow in the wind and fits nicely over two or three layers. 
The 2-layer hydroshell offers waterproof protection which undoubtedly stands up to the forces of nature. 
I had also opted for the all-terrain Berghaus MTN Seeker 32L hiking pack – a bag that looks equally at home on the ice slopes of Everest as it does on the cycle highways of a London commute.
Whether you are ski-touring, mountain climbing or exploring lonely trails – this pack is an epic companion.
It comes with all the mountain essentials – a dedicated rope lashing, two holsters for hiking poles or ice axes, a mesh helmet holder, a hydration pouch that holds will fit a 3L water pack, and it has an external TPU coating for added durability and water resistance.
And in goji berry red it looks the absolute business too.
I put mine through its paces over four days of Highlands hiking where it got bruised and battered but survived the adventure without a scratch.
This pack looks awesome too in goji berry red but also comes in vaporous grey
The mighty An Teallach near Ullapool in the north west Highlands of Scotland 
In fact it looks like it could be run over by a tank and come out unscathed.
What I like about this bag is that it doesn't repeat the mistakes of my Osprey pack – too many flimsy zips and undersized pockets.
You can easily stash and quickly access enough gear for multi-day hikes and it weighs a reasonable 870g.
The wind and rain eased as we made our way over the two munros and slalomed down to complete an exhilarating day.
My new gear had more than stood up to the test.
Now time for a celebratory pint.
Berghaus Unisex MTN Seeker 32. Rating: 5/5. Price: £170
Deluge Pro 2.0 jacket. Rating: 4/5. Price:  £110
Source: Read Full Article