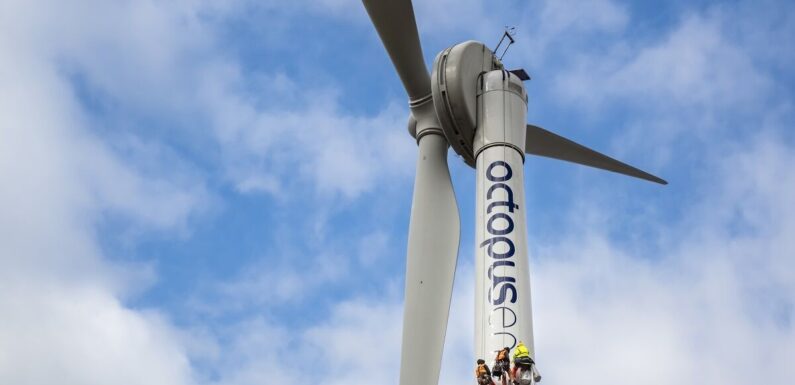 Octopus Energy has announced the opening of seven new onshore wind farms across Europe over the course of the last year. Construction of the facilities — one of which, the 50 megawatt (MW) Cumberhead wind farm, is located in Scotland — was managed by the firm's energy generation arm. The other facilities are located in France, Germany, Poland and Sweden, and together are capable of a combined output of 250 MW. This is enough to power some 250,000 homes — or make a whopping 22 billion cups of tea.
According to Octopus Energy, the 12 turbines at the Cumberhead wind farm were all completed by last month. The firm has a so-called power purchase agreement in place with Kimberly-Clark — the manufacturer of Andrex, Huggies and Kleenex — to meet around 80 percent of their electrical power needs in the UK.
Across the English Channel, the 9 MW Berceronne wind farm in France came online in July last year, and was joined by the 24 MW Cerisou farm back in November.
In Germany, Octopus Energy acquired the 22.4 MW Biebelnheim-Gabsheim wind farm near Frankfurt last year. The site has four turbines, each over 790 feet tall.
Two of the remaining three wind farms are based in Poland — with capacities of 40 and 19 MW, respectively — while the third, located in Sweden, has an 86 MW capacity. Octopus has a 49 percent stake in the latter.
Octopus Energy Generation CEO Zoisa North-Bond said: "It's brilliant to see this flurry of wind farms we've built across Europe start generating clean power."
"And we've got big plans to invest in lots more.
"New green energy is absolutely essential to accelerate our shift to a renewables-first economy and wean ourselves off expensive fossil fuels.
"To make sure this energy crisis is the very last one, we can build our way out through cheap green power."
The development of the new wind farms, Octopus Energy said, will help to avoid an estimated 270.000 tonnes of carbon emissions each year.
This is the equivalent of planting 1.3 million trees, or removing 150,000 petrol-driven cars from the road.
Octopus Energy Generation now manages a grand total of 3.2 GW of renewable power facilities across Europe.
The company is looking to increase this number to 20 GW — enough to power 15 million homes — by the year 2030.
This, they said, will help across Europe by "boosting the continent's energy security and reducing consumers' bills".
DON'T MISS:
Impact study on near-death experiences confounds expectations[ANALYSIS]
Four checks you should make before installing a heat pump[INSIGHT]
Rare recruitment to start ahead of UK's first vertical rocket launch[REPORT]
Octopus Energy added: "Onshore wind is a key part of Europe's energy security strategy, as the European Union recently outlined its ambitions to more than double Europe's wind capacity."
This move dovetails nicely, the firm noted, with their new, pioneering "Fan Club" model, which allows people to enjoy cheaper energy prices when it's windy via local turbines.
As Octopus Energy explains: "With Octopus Fan Club, you'll get 100 percent renewable electricity at the same great price as any other Octopus tariffs — but with a twist.
"Any electricity you use while your local turbine is spinning automatically benefits from a 20 percent discount.
"Even better, when the wind picks up and the green electrons really start flowing, you'll get 50 percent off every unit you use."
Source: Read Full Article