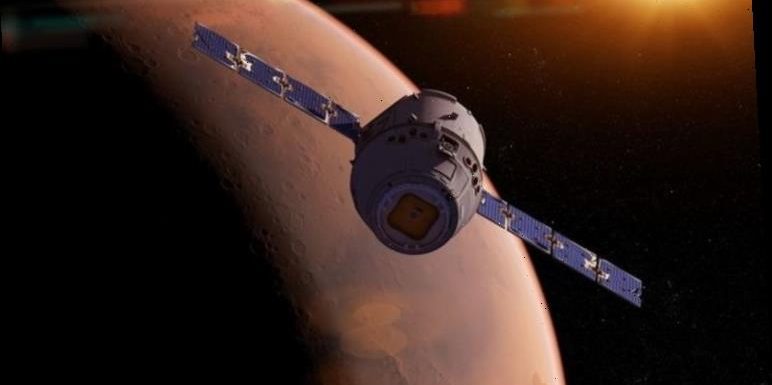 Tianwen-1: China's Mars mission discussed by expert
When you subscribe we will use the information you provide to send you these newsletters.Sometimes they'll include recommendations for other related newsletters or services we offer.Our Privacy Notice explains more about how we use your data, and your rights.You can unsubscribe at any time.
This week, missions from the United Arab Emirates and China arrived at Mars within one day of one another. Both missions mark a first for the two nations, as neither had conducted an independent interplanetary mission before.
In addition, the US is set to arrive at the red planet next week with its latest rover, Perseverance.
The reason all three missions have arrived at roughly the same time is because the positions of Mars and Earth are currently favourable.
The two celestial bodies only repeat the positioning once every 26 months, so launching the probes at around the same time was necessary.
The US and China hope their probes will physically touch down on the planet and roam around, while the UAE have placed their probe in orbit.
China confirmed their orbiter – Tianwen 1 – had been placed in orbit around Mars yesterday.
The country's space agency did not provide real-time updates, but amateur astronomers kept up by monitoring the spacecraft's radio signal, SpaceFlightNow reports.
READ: China's Mars orbiter Tianwen-1 has arrived at the Red Planet
The orbiting craft will now remain in orbit for weeks, occasionally reducing its speed with rocket burns until it can safely touch down on the surface some time between May and June.
Chinese scientists say the mission's aim is to survey the planet's surface, study the rocks there, and look for signs of water ice.
The UAE's probe arrived a day earlier. In a burn which significantly cut its speed from over 75,000 mph to just over 11,000 mph, the probe successfully entered orbit.
DON'T MISS:
Life on Mars: Rising water vapour study investigates evidence of ancient alien life [INSIGHT]
Asteroid to come closer to Earth than the Moon this week, Nasa shows [ANALYSIS]
Incredible plasma video shows 'raindrops' as big as boulders seen falling to the Sun [INFO]
UAE scientists aim to use it in order to study Mars' atmosphere, including how it reacts to solar storms.
Speaking to the American Association for the Advancement of Science's Science Mag, Astrophysicist Dimitra Atri of New York University in Abu Dhabi said the mission prompted "so much excitement" locally.
Finally, NASA hopes its 2020 Perseverance probe will arrive next week.
It states the probe's mission is to "better understand the geology of Mars and seek signs of ancient life".
It will also collect rock samples for potential return to Earth in a future mission and "demonstrate technology for future robotic and human exploration".
The US has launched and landed several Mars rovers in the past, including Sojourner, Spirit, Opportunity, and Curiosity.
Source: Read Full Article