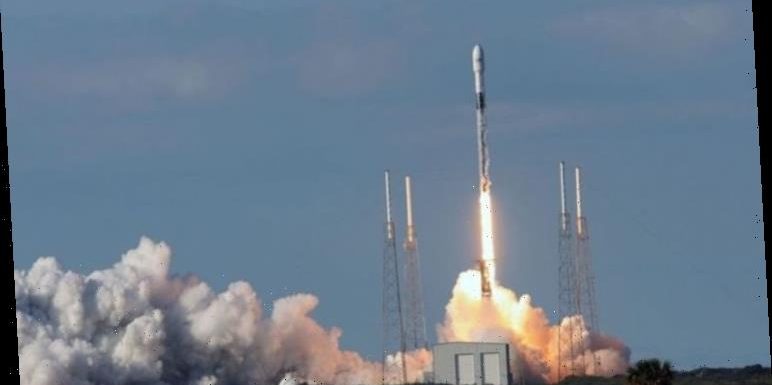 SpaceX: Simulation demonstrates 'Super Heavy' rocket landing
On January 22, SpaceX is hoping to launch a Falcon 9 rocket carrying dozens of satellites into orbit. The launch window at Kennedy Space Center, Florida, is open from 9.24am ET (2.24pm GMT) to 10.22am ET (3.22am GMT).
Up to 10 Starlink satellites will be onboard the mission, dubbed Transporter-1, as Elon Musk looks to increase the company's broadband providing capabilities.
It is unclear what other companies have satellites onboard the rocket.
However, NASA stated there will be a mixture of government and commercial satellites.
A mission statement on the Kennedy Launch Center site said: "A SpaceX Falcon 9 rocket is targeting a launch of the Transporter-1 mission from Cape Canaveral.
We will use your email address only for sending you newsletters. Please see our Privacy Notice for details of your data protection rights.
"This rideshare mission will deploy dozens of small microsatellites and nanosatellites, including Starlink satellites, into a sun-synchronous orbit for commercial and government customers."
The latest batch of Starlink satellites increases the number present in orbit to more than 1,000.
The Starlink satellite broadband system has been given regulatory approval for the UK, meaning customers could begin signing up.
Starlink is the ambition of Mr Musk's SpaceX to provide internet to all quarters of the globe using satellite technology.
Mr Musk has plans to get thousands of satellites into orbit, meaning no one will have to go without broadband.
To receive the Starlink internet, users will have to have a satellite dish installed.
However, Ofcom has given approval for dishes to be installed across UK homes, Bloomberg confirmed.
But Starlink will not come cheap to potential UK users.
DON'T MISS
Elon Musk dubbed 'tragic superhero wannabe who should leave Earth'
SpaceX launch: Watch agency release batch of Starlink satellites
Elon Musk RIVAL: Space race heats up as Richard Branson smashes goal
The initial cost of having the hardware set up is £439, plus another £54 for shipping fees.
On top of that, users will have to pay a further £84 a month to receive Starlink's broadband.
Mr Musk has goals to get 12,000 Starlink satellites into orbit by 2026.
Source: Read Full Article