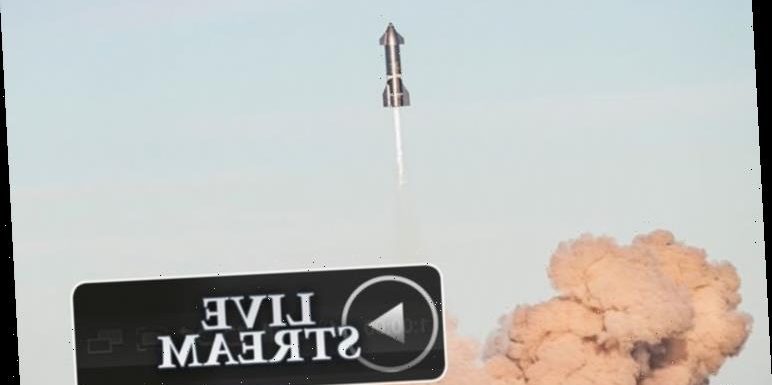 SpaceX Starship explodes whilst attempting to land during test
SpaceX carried out a static fire test on Wednesday, briefly lighting up the Starship's three Raptor engines. Before the SN9 prototype can take to the skies, SpaceX has to test its flight capabilities in a series of preflight procedures. Although still tethered to the ground, the engine test was a success and SpaceX fans are hoping a weekend launch is on the cards.
The Starship Serial Number 9 or SN9 will perform a high-altitude hop, coming in hot on the heels of SN8's failed landing last month.
On December 9, the previous iteration of Starship prototype soared to a height of 7.8 miles (12.5km) before plummeting to the ground on its side.
The so-called belly-flop manoeuvre tested the rocket's ability to decelerate in the atmosphere without using its engines.
Unfortunately, the rocket failed to stick its landing at SpaceX's Boca Chica facility in South Texas.
And though the rocket went up in a ball of flames, SpaceX considered the launch a great success.
https://www.youtube.com/embed/Ky5l9ZxsG9M
How to watch the SpaceX SN9 launch online:
SpaceX has not confirmed a launch date and odds are the launch will go ahead without any major announcement.
Starship's test flights have so far gone under the radar somewhat, with most news coming directly from interactions with Elon Musk on Twitter.
SpaceX fans, however, suspect the SN9 could launch before the week is over.
The suspicion is based on a note to airmen (NOTAM) filed by the US Federal Aviation Administration (FAA) this week.
We will use your email address only for sending you newsletters. Please see our Privacy Notice for details of your data protection rights.
A NOTAM has been issued for Friday, January 8, as well as Saturday and Sunday.
The notice designates the airspace around Brownsville, Texas a no-flight zone between 2pm and 11.59pm GMT.
The no-flight zone also stretches over SpaceX's facilities at Boca Chica.
The reason for the NOTAM states: "To provide a safe environment for rocket launch and recovery pursuant to 14 CFR section 91."
DON'T MISS…
Mars: White House releases new 'strategies' for Red Planet missions [REPORT]
UFO hunters in Twitter meltdown over video of 'burning alien ship' [VIDEO]
Alien discovery: Barack Obama hints at the existence of aliens [INSIGHT]
However, courtesy of LabPadre on YouTube, you can follow a round-the-clock live stream of SpaceX's Boca Chica site.
The YouTube broadcast, which is embedded above, shows the Starship prototype on the launchpad.
The camera is mounted nearly six miles from the facility at Sapphire Condominiums, South Padre Island, Texas.
SN9 is the next of a series of Starship prototypes SpaceX is assembling at Boca Chica.
SN8 and SN9 are the first flight-worthy prototypes with past models being scaled-down and resembling water tanks and not conventional spacecraft.
Past test flights have also only reached heights of about 500ft or 150m.
The ultimate goal is to build a fleet of interplanetary vehicles capable of reaching the Moon, Mars and possibly beyond.
The 160ft Starship will launch into space on top of a Super Heavy booster – 72m-tall (236ft) booster rocket.
SpaceX said: "Starship will be the world's most powerful launch vehicle ever developed, with the ability to carry in excess of 100 metric tonnes to Earth orbit."
Source: Read Full Article