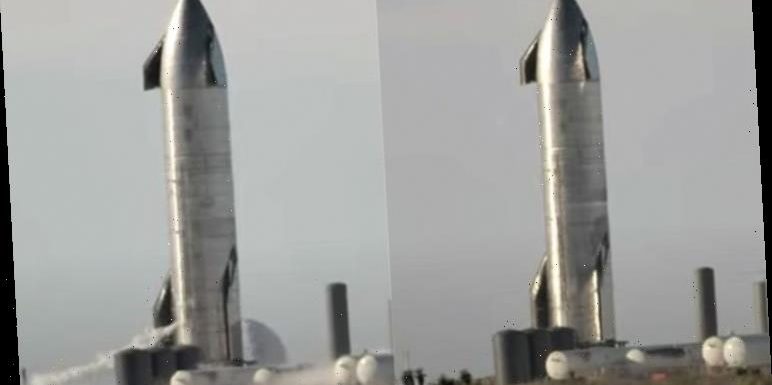 SpaceX conduct static fire engine test on Starship SN9
The current version of the Elon Musk-owned SpaceX Starship completed the latest stage of its pre-flight engine rehearsal on Wednesday, January 13. A trio of static fire tests saw the next-gen space rocket's Raptor engines ignite while anchored to the ground at the company's Boca Chica base.
South African billionaire Elon Musk revealed the static fire test went according to plan via Twitter.
Good progress towards our 'Hop in & go to Mars!' goal

Elon Musk
He tweeted: "Today at SpaceX is about practising Starship engine starts.
"Ship is held down by massive pins while engines are fired.
Two starts completed, about to try a third. All three static fires completed and no RUDs [Rapid Unscheduled Disassembly]!"
We will use your email address only for sending you newsletters. Please see our Privacy Notice for details of your data protection rights.
He then added: "Detanking & inspections now. Good progress towards our 'Hop in & go to Mars!' goal.
'RUD' is technical jargon to describe a rocket not accidentally exploding, as happened with the SN8 test.
These latest tests are perceived as the final set of checks paving the way for the next launch that may well arrive in the coming days.
Airspace restrictions are in place around Boca Chica both tomorrow, Friday, January 15, and Saturday, January 16.
The earliest potential SpaceX Starship launch date is thought to have been postponed several times since last week.
Pioneering space company SpaceX has been fine-tuning its Starship design for the past two years.
The first stage of these tests arrived with a succession of low-altitude 'hops'.
SpaceX's first successful actual flight of significant altitude occurred late last year.
This witnessed the previous Starship iteration, SpaceX SN8, approach the approximate altitude where commercial jets do much of their cruising.
And this audacious achievement proceeded a dramatic return to Earth.
DON'T MISS…
NASA Curiosity Rover completes 3,000 Martian days on Mars [REPORT]
Area 51 images show strange structure inside an open hangar [PICTURES]
Virgin Orbit set to reach space for first time this weekend [INSIGHT]
SN8's new landing manoeuvre was then put to the test – and although this initially seemed to succeed in orienting the rocket, the prototype entered too fast, resulting in a spectacular explosion.
The highly secretive nature of rocket tests mean little is really known about when the next SpaceX Starship launch will occur.
This problem is compounded with scrubs and delays all part of the process in space rocket development.
As a result, despite strong indications a Starship test launch could take place on Friday or the weekend, it is equally likely SpaceX enthusiasts may even have to wait a little longer.
What is Space Starship:
SpaceX is developing Starship to ferry both crew and cargo to the Moon, Mars and eventually beyond.
The cutting-edge transportation system will consist of two reusable elements: a 165ft (50m) tall spacecraft dubbed Starship and its Super Heavy rocket.
Both Starship and Super Heavy will be powered by SpaceX's Raptor engine – iterations of which were tested in Wednesday's static-fire.
The final Starship is expected to boast six Raptors, while Super Heavy will include roughly 30 of the engines.
And although Starship will have powerful enough to launch itself from the Moon and Mars, the spacecraft will require Super Heavy's assistance to escape the gravity of even larger alien worlds.
Source: Read Full Article