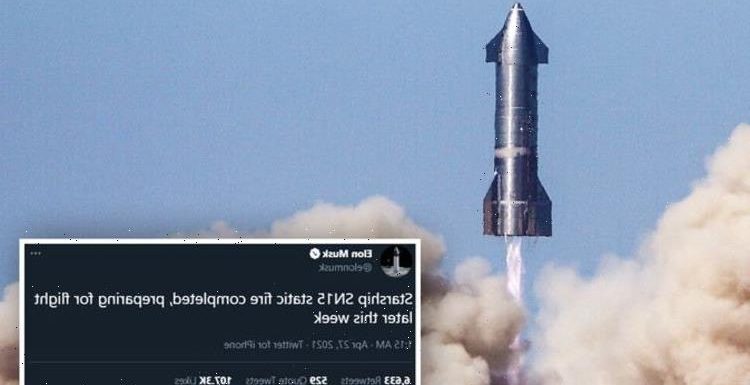 SpaceX: Camera feed freezes upon Starship SN11 landing
When you subscribe we will use the information you provide to send you these newsletters. Sometimes they'll include recommendations for other related newsletters or services we offer. Our Privacy Notice explains more about how we use your data, and your rights. You can unsubscribe at any time.
SpaceX chief Elon Musk, 49, told his more than 52 million Twitter fans on Tuesday Starship will fly "later this week". A report filed by the US Federal Aviation Administration (FAA) meanwhile suggests the test flight is pencilled in for April 28. SpaceX is consequently looking at a very busy week, with a Starlink launch early on Wednesday, followed by Starship's test flight on the same day, and the return of the Crew Dragon and four astronauts from the International Space Station (ISS) on Saturday, May 1.
Starship was cleared for flight early on Tuesday (UK time) after completing a static fire test of its three Raptor engines – a critical pre-flight wet rehearsal.
The test was carried out at the company's Boca Chica facility in South Texas, where four Starship iterations have already met their fiery demise.
During the static fire, SN15 briefly ignited its engines at full throttle but remained firmly tethered to the ground.
Past static fires have proven problematic, causing engine problems and delays with the launch of the SN9 and SN10 models.
But all appears to have gone according to plan this time around and the SN15 is go for launch.
Mr Musk tweeted: "Starship SN15 static fire completed, preparing for flight later this week."
Documents filed by the FAA on Monday suggest the test flight is pencilled in for Wednesday, April 28, although the date could still change before the day is over.
An ATCSCC Advisory by the FAA reads: "SpaceX Starship Boca Chica re-scheduled for April 28, 2021."
Pundits have been wondering whether SpaceX might opt for another static fire test as it has done in the past.
Elon Musk discusses future of SpaceX's Starship system
Chris Bergin of NASASpaceflight tweeted: "No need for another Static Fire from the Header Tanks?"
Another person asked: "Assumably successfully completed then? And will an additional static fire be needed pre-flight? (Very excited about this week's test flight!)"
Flight restrictions issued by the FAA suggest the test flight could go ahead between 1am BST on Wednesday and 2am BST on Thursday.
Cameron County officials have also ordered road closures around Boca Chica on Tuesday, with a backup for Wednesday, indicating more static fire tests could be in the pipeline.
The closures specify "non-flight testing" on either of these two days and not space flight activity.
Follow Express.co.uk for the latest Starship updates and SpaceX news.
SpaceX fans have been desperate to see a bit of action at Boca Chica after four failed test flights to date.
Starting with the Starship SN8 – the first full-scale Starship prototype – SpaceX has been attempting to launch and land the stainless steel rocket in one piece.
Although the launch and descent portion of the test flights went ahead without a hitch, SpaceX is yet to stick the landing.
Starship SN10 came incredibly close but hit the ground too hard, likely causing a methane leak.
As the rocket stood lopsided on the launchpad on its damaged landing legs, the leak ignited and blew the rocket to smithereens just eight minutes after touchdown.
The SN11 after it was not so lucky either and a fire in the rocket's engine bay damaged some of the internal components.
The rocket too came crashing into the launch pad after plummetting 32,000ft (10km).
Source: Read Full Article