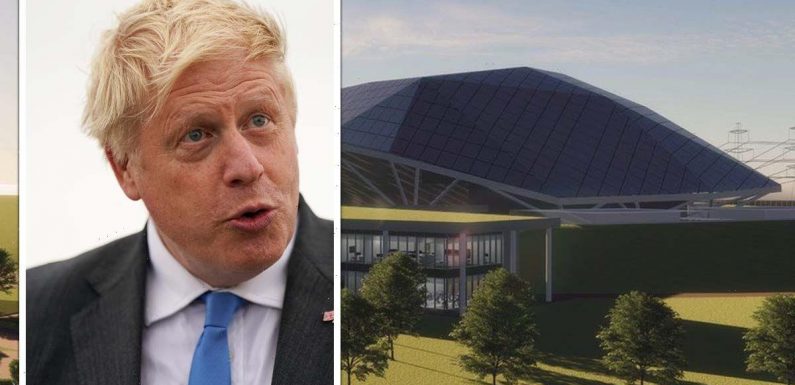 UK 'hasn't invested enough' in domestic energy says Johnson
We use your sign-up to provide content in ways you've consented to and to improve our understanding of you. This may include adverts from us and 3rd parties based on our understanding. You can unsubscribe at any time. More info
Since Russia's invasion of Ukraine, European countries, including the UK, have looked to sever their energy ties with Russia and become more energy independent. Aside from rapidly scaling up renewable energy, the UK has also invested heavily in nuclear power, and specifically backing Rolls-Royce's small nuclear reactor technology, which is expected to be built much faster and cheaper than conventional nuclear reactors.
Rolls-Royce has submitted the design for its reactor for approval from the Government, but they are stuck in the Treasury waiting for approval.
Tobias Ellwood, the Conservative MP for Bournemouth East, tweeted: "How can we help tackle the cost of living crisis and become energy secure?
"Generate more of our own power here in the UK through the rollout of small modular nuclear reactors.
"It's a new concept and Rolls-Royce has a design that we should support."
In the Prime Minister's energy security strategy that was unveiled earlier this year, the Government announced that it is investing £210million to help develop the innovative new technology, which is said to be much cheaper and easier to deploy than traditional nuclear power stations.
Mr Ellwood, the Chair of the House of Commons Defence Select, also shared a video where he said: "One of the biggest causes of the cost of living crisis is the rising price of energy.
"And one of the biggest ways in which we can reduce energy prices and become more energy self-sufficient is stuck in this building, the Treasury.
"A single Modular Nuclear Reactor could power a city the size of Leeds, sixty reactors could power the entire country.
"Rolls Royce, who have been building these kinds of reactors for our nuclear power submarines for decades have submitted a state-of-the-art design, waiting for approval."
Once the design is approved and the factory for the Rolls Royce reactors is up and running, the company expects to produce a reactor every six months, creating 40,000 jobs and over £50billion worth of investment.
Mr Ellwood continued: "This would offer huge export opportunities as nations seek to reduce their carbon emissions.
"It's a simple but major part of the jigsaw as we seek the right energy mix to keep the lights on and make Britain more energy independent."
These SMRs, which are approximately the size of two football pitches, can reportedly power around half a million homes, putting its estimated energy output at roughly a quarter of the larger traditional nuclear reactors like the upcoming Hinkley Point C.
DON'T MISS:
Musk mystery as 'four unidentified payloads' spark fears [REPORT]
Putin sent warning: UK's 'three-year secret' finally unveiled [REVEAL]
Western weapons obliterate Putin's resupply vessel in Black Sea [SPOTLIGHT]
Rolls-Royce is looking to develop a reactor that can be easily mass-produced in factories, which will make the technology dramatically cheaper and more flexible.
In the Government's Energy Security Strategy, the UK has pushed hard for nuclear energy, with a goal of generating 24 Gigawatts by 2050, which would account for 25 percent of the projected electricity demand.
Source: Read Full Article