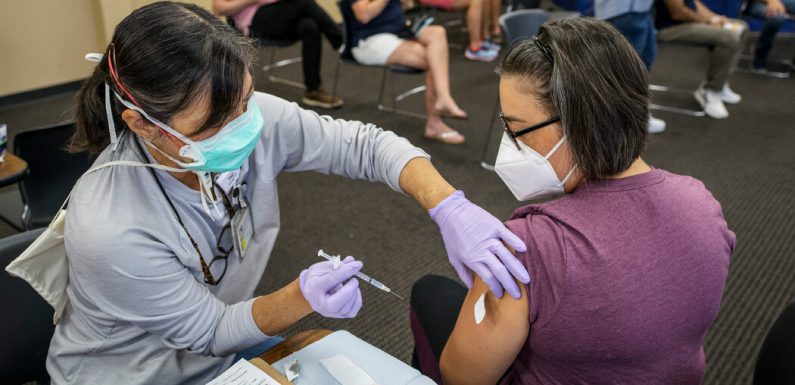 The Food and Drug Administration is likely to authorize Pfizer booster shots this week for many Americans at high risk of falling seriously ill from the coronavirus, now that a key advisory committee has voted to recommend the measure.
On Friday, a panel of experts endorsed offering Pfizer booster shots for ages 65 and older, and people 16 and over who are at high risk of getting severe Covid-19 or who work in settings that make them more likely to get infected.
The agency, which often follows the committee's advice but is not required to, is expected to decide early this week. An advisory committee of the Centers for Disease Control and Prevention is scheduled to meet Wednesday and Thursday to discuss booster shots before that agency — which sets vaccine policy — issues its recommendations.
The decision on Pfizer booster shots is just one of a series of key questions that the agency is expected to consider in coming weeks. Officials have said they expect to soon have data on whether boosters are needed for people who got the Moderna and Johnson & Johnson vaccines.
Also expected this fall is a decision on a shot for children ages 5 to 11, an intensely watched issue given that about 48 million children are not yet eligible for a vaccine, but have largely returned to classrooms. Pfizer has said it plans to release the results of its children's trial by the end of this month, and officials have said they expect results from Moderna's children's trial later this fall.
Interviewed on Sunday-morning news shows, Dr. Anthony S. Fauci, the nation's top infectious disease doctor and an adviser to President Biden, asked Americans to be patient and not to get a booster shot until they were eligible. That includes people 65 and over who received the Moderna and Johnson & Johnson vaccines.
"We're working on that right now to get the data to the F.D.A., so they can examine it and make a determination about the boosters for those people," he said on NBC's "Meet the Press." "They're not being left behind by any means."
Last month, the Biden administration proposed a plan that would have made all vaccinated Americans eligible for a booster shot eight months after their second shot, or their first in the case of the one-shot Johnson & Johnson vaccine.
But the expert panel concluded that boosters were not necessary for most younger, healthier Americans, unless their jobs put them at special risk for infection.
Jobs in that category would include health care workers, emergency responders and teachers, according to Dr. Peter Marks, who oversees the F.D.A.'s vaccine division.
Whatever the F.D.A. decides about boosters this week, Dr. Fauci predicted it will likely be revised as more data comes in. "In real time, more and more data are accumulating," he said on ABC's "This Week." "There will be a continual re-examination of that data, and potential modification of recommendations."
Dr. Francis S. Collins, the director of the National Institutes of Health, echoed those remarks on CBS's "Face the Nation," saying that the category of who is eligible for an extra shot was likely to be expanded in the "coming weeks."
See How Vaccinations Are Going in Your County and State
See where doses have gone, and who is eligible for a shot in each state.
F.D.A. officials will also spend the coming weeks and months evaluating vaccines for children under 12. On Sunday on ABC, Dr. Fauci said a decision on children's vaccines would certainly come "this fall," adding, "sometime in the mid- to late fall, we will be seeing enough data from the children from 11 down to 5 to be able to make a decision to vaccinate them." A decision on vaccines for children under 5 would come after that.
Understand Vaccine and Mask Mandates in the U.S.
Vaccine rules. On Aug. 23, the Food and Drug Administration granted full approval to Pfizer-BioNTech's coronavirus vaccine for people 16 and up, paving the way for an increase in mandates in both the public and private sectors. Private companies have been increasingly mandating vaccines for employees. Such mandates are legally allowed and have been upheld in court challenges.
Mask rules. The Centers for Disease Control and Prevention in July recommended that all Americans, regardless of vaccination status, wear masks in indoor public places within areas experiencing outbreaks, a reversal of the guidance it offered in May. See where the C.D.C. guidance would apply, and where states have instituted their own mask policies. The battle over masks has become contentious in some states, with some local leaders defying state bans.
College and universities. More than 400 colleges and universities are requiring students to be vaccinated against Covid-19. Almost all are in states that voted for President Biden.
Schools. Both California and New York City have introduced vaccine mandates for education staff. A survey released in August found that many American parents of school-age children are opposed to mandated vaccines for students, but were more supportive of mask mandates for students, teachers and staff members who do not have their shots.  
Hospitals and medical centers. Many hospitals and major health systems are requiring employees to get a Covid-19 vaccine, citing rising caseloads fueled by the Delta variant and stubbornly low vaccination rates in their communities, even within their work force.
New York City. Proof of vaccination is required of workers and customers for indoor dining, gyms, performances and other indoor situations, although enforcement does not begin until Sept. 13. Teachers and other education workers in the city's vast school system will need to have at least one vaccine dose by Sept. 27, without the option of weekly testing. City hospital workers must also get a vaccine or be subjected to weekly testing. Similar rules are in place for New York State employees.
At the federal level. The Pentagon announced that it would seek to make coronavirus vaccinations mandatory for the country's 1.3 million active-duty troops "no later" than the middle of September. President Biden announced that all civilian federal employees would have to be vaccinated against the coronavirus or submit to regular testing, social distancing, mask requirements and restrictions on most travel.

Source: Read Full Article