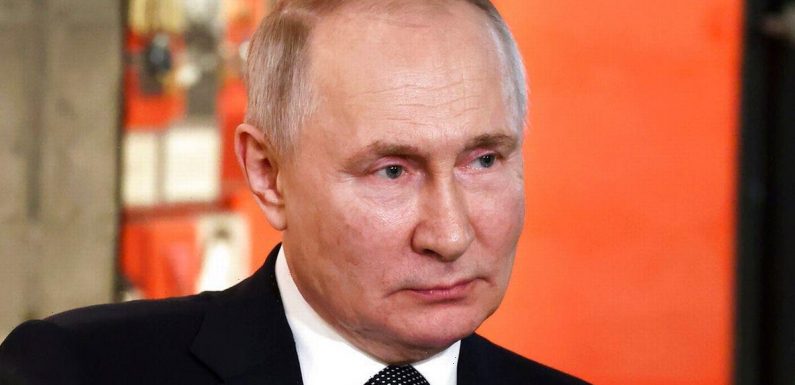 Bookmark
For out-of-this-world news, sign up for the Spaced Out newsletter
We have more newsletters
Russian airline pilots spotted a UFO buzzing overhead as Vladimir Putin threatened to nuke the West.
The mystery craft "changed colour and height" in the sky above the city of Volgograd where the Russian president delivered his latest chilling address.
A report by Aviatorschina on social media network Telegram said the unidentified flying object was reported to the aviation authorities by the crews of four separate passenger planes.
READ MORE: Mystery 'UFO whirlpool' in night sky was SpaceX and Elon Musk's fault, claim scientists
"The crew of an Airbus A321 of S7 Airlines, operating flight S72046 from Sochi to Moscow, 12 minutes before reaching Volgograd at an altitude of 10,000 meters, reported that they observed an unidentified flying object at right angles to the plane, on the left side," they reported.
"The object was changing colour and height, and the direction of movement."
The sightings were reported to air traffic control and civil and military authorities.
It continued: "The competent authorities have been notified since no flight plans were provided in the specified area at the time.
"Permission to use the airspace was not issued."
Putin flew to the city last Thursday to attend ceremonies linked to the 80th anniversary of the Battle of Stalingrad in World War 2.
He hinted the Ukraine conflict could turn nuclear following the West's moves to supply the invaded nation with tanks.
The S7 crew said the sighting happened at 4.08pm UK time on Thursday. That was around three hours after Putin's arrival.
The Russian authorities have not commented on the UFO reports.
The jets reporting the strange sightings were Siberia Airlines flights S73750 from Istanbul to Moscow and S72046 from Sochi to the Russian capital.
Aeroflot flight SU1125 – on the same route – also saw the craft along with the Rossiya plane heading from Mineralnye Vody to St Petersburg.
The flight paths took the aircraft to the east of Volgograd – formerly called Stalingrad.
They all took major detours to avoid flying close to the war zone in Ukraine before passing Volgograd.
READ NEXT:
Prince Harry served legal papers by Meghan Markle's sister over Oprah Winfrey bombshells

Astrid Wett pies rival Elle Brooke by announcing she's going to fight AJ Bunker

Inside life of cougar who 'found out Prince Harry told the world of romp on WhatsApp'
Elon Musk
Meghan Markle
Prince Harry
Vladimir Putin
Spacex
UFO
Military
Russia
Source: Read Full Article