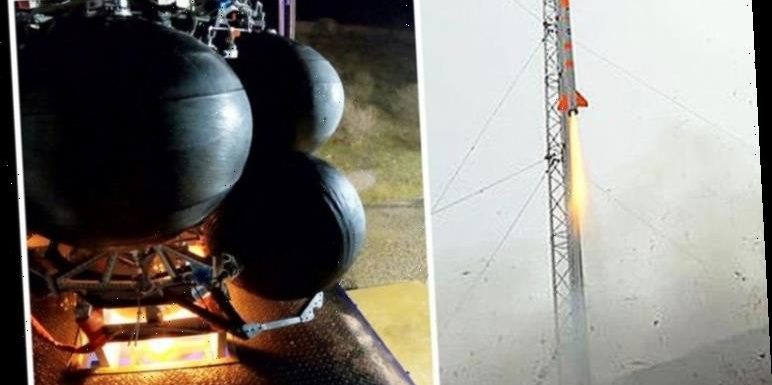 Skyrora unveil their UK-built space vehicle
On December 23 last year, private space company Skyrora performed its most important test yet, involving a full upper-stage static fire test at its engine development complex in Fife. This historic event means the firm has verified the space company's ability to produce flight-grade vehicles and is viewed the final checkpoint prior to taking off into orbit. But the test also represents an important next step for the entire UK space industry.
The company said in a statement: "Passing this test puts Skyrora one step closer to the completion of their Skyrora XL vehicle."
All the data came back very positive

Skyrora's Head of Engineering Jack Marlow
This versatile vehicle is intended to eventually ferry satellites into orbit or perform an array of possible operations in space in an Orbital Transfer Vehicle configuration.
These can include extracting dangerous space junk or maintaining those satellites already in orbit.
The vehicle also boasts the ability to periodically re-fire its engine and conduct multiple missions during one trip.
This will consequently make missions highly-configurable and suitable for a wide envelope of customer requests and flight plans.
JUST IN: Moon landing investigator found 'serious anomaly'
We will use your email address only for sending you newsletters. Please see our Privacy Notice for details of your data protection rights.
Jack Marlow, Skyrora's Head of Engineering revealed this latest exercise involved a fully-integrated setup of the engine.
He told Express.co.uk: "We tested the other stage of the Skyrora XL launch vehicle in a 'static fire', i.e. a hot fire test of the upper stage.
"This was a flight-weight article, so it was not a demonstration or part of a laboratory test – it was the full article that we look to be using for launch in the next 10 years.
"We strapped it down and ignited engines to do a full mission simulation, i.e. be tested for over 450 seconds, over three test fires.
"This is the simulation of when Skyrora XL launches and the third stage ignites, it can sometimes go into an elliptical transfer scheme, where we do a burn then coast for a long time and then we do a second burn.
"For a full simulation of this, we had a test to make sure that the propulsion system, the feed system and the propellant systems were all coming together along with the avionics and flight computer working together as per the design."
He added the "extremely positive" test results mean the Edinburgh-based Skyrora is on track for a full launch sometime next year.
Mr Marlow said: "All the data came back very positive in terms of performing as per the design.
"Therefore, this is raising the TRL, the Technology Readiness Level of the stage and puts it on to the next stage of the Skyrora XL technological development roadmap, which is pushing-forward with manufacturing and testing the second stage of the vehicle.
DON'T MISS
Stephen Hawking's 'black hole time machine' proposal to NASA [REVEALED]
Stonehenge breakthrough: Julius Caesar letter exposes 'secret' [VIDEO]
Antarctica discovery: Century-old letter reveals shock find [PICTURES]
"So we started at the top small stage and we moved to the second one. We hope this will be one of our main milestones achieved of 2021."
Volodymyr Levykin, Skyrora CEO, said in a statement: "We have been deliberately quiet about this aspect of our Skyrora XL launch vehicle as we had huge technical challenges to get it to this stage and we wanted to ensure all tests had a satisfactory outcome, which they now have.
"We aim not only to conduct efficient launches from UK soil in the most environmentally friendly way, but then also to ensure that each single launch mission has the possibility of conducting the level of work that would have historically taken multiple launches.
"With this approach we enter a whole new level of efficiency with full consideration of environmental impact taken into account."
Mr Marlow, believes Skyrora's recent achievement has helped bolster the positive prognosis for the UK space industry as a whole.
He said: "I think it's very good. We have multiple launch vehicle companies entering the development stage now to get the UK back to nation providing launch capabilities.
"We have the regulations from the UK Government currently being defined further to enable licensed operators schematics to launch from the UK, so it is a very exciting time.
"We're taking on more graduates, more people are getting into the space sector and the downstream sector, which we've had for a long time in this country."
Source: Read Full Article