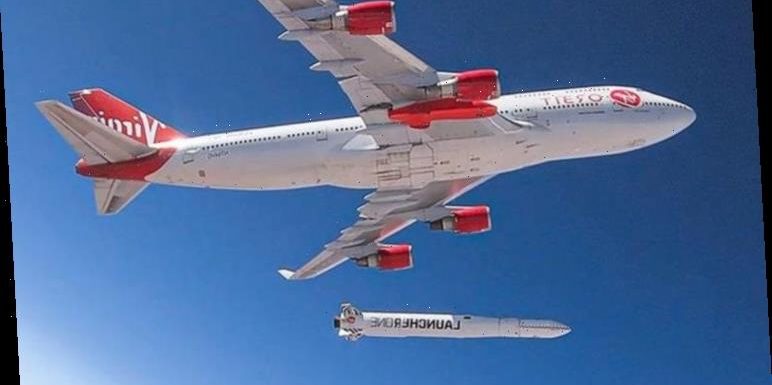 Virgin Orbit attach the LauncherOne rocket to the Cosmic Girl jet
Virgin Orbit is on Sunday, January 17, taking a historic step at reaching space with its LauncherOne rocket for the first time. The Richard Branson-owned spacecraft company is today making its second attempt to reach orbit with its air-launched Demo 2 LauncherOne rocket.
Unlike more conventional rockets taking-off from the ground, Virgin Orbit's LauncherOne is released and launched from under the wing of an inflight, modified 747.
With weather looking favourable & our hardware in great shape, our team is on track for tomorrow's launch

Virgin Orbit
As a result, the remarkable rocket will fly above 75 percent of Earth's atmosphere before its engine actually ignites.
In an earlier test launch in May last year, LauncherOne only burst into action for approximately 10 seconds.
The cutting-edge rocket tech then cut-out early before plummeting into the Pacific off the South California coast.
An investigation later determined a breach in a high-pressure line was at fault.
https://www.youtube.com/embed/DdkHRiiAKUM
We will use your email address only for sending you newsletters. Please see our Privacy Notice for details of your data protection rights.
How to watch Virgin Orbit launch live stream:
Weather permitting and if everything goes according to plan, Virgin Orbit's carrier plane, Cosmic Girl, will launch from California's Mojave Air and Space Port today.
A four-hour window opens at 10am PT local time (6pm GMT), with LauncherOne already safely stowed away beneath one wing.
Then at an approximate altitude of 35,000ft (10,700m), Virgin Orbit's LauncherOne will drop free and make its own way to orbit solo.
Virgin Orbit enthusiasts can follow can enjoy all the action via a live stream on the private space company's YouTube channel and Twitter feed.
Initial indications appear promising for the prospect of the historic launch taking place this Sunday.
The Virgin Orbit Twitter feed last night tweeted: "With weather looking favourable & our hardware in great shape, our team is on track for tomorrow's launch.
"But the real fun starts late tonight as we begin loading our fuel, RP-1, onto LauncherOne.
"We'll see you all in the morning as we open the day with cryogenic LOX loading."
DON'T MISS
Brian Cox admitted 'we're only intelligent life' [UPDATE]
Black hole news: Unlimited energy could be extracted from black holes [INSIGHT]
Solar winds prefer to hit the North Pole, reveals new ESA study [ANALYSIS]
And the date before, Virgin Orbit added: "Our Launch Readiness Review [LRR] is complete, our hardware looks great, and our customers are ready.
"We're following through on the last actions identified at our LRR."
Virgin Orbit had planned for the Demo 2 launch to have taken place in mid-December.
However, complications compounded by the ongoing coronavirus pandemic pushed the date back to January 10 Last week.
What is Virgin Orbit LauncherOne?
The LauncherOne rocket is a small-satellite booster designed to ferry payloads of up to 1,100 pounds into low Earth orbit.
The liquid-fuelled LauncherOne rocket is approximately 70ft (21m) long and uses rocket-grade kerosene and liquid oxygen as propellant.
Virgin Orbit was founded by British billionaire Sir Richard Branson and aims to launch missions for customers at $12 million (£8.8 million) per flight.
However, since Virgin Orbit's arrival, two other orbital launch companies, Rocket Lab and SpinLaunch, have become completion.
The pair are vying to become a global hub for satellite manufacturing and the reinvigorated private space industry.
Source: Read Full Article