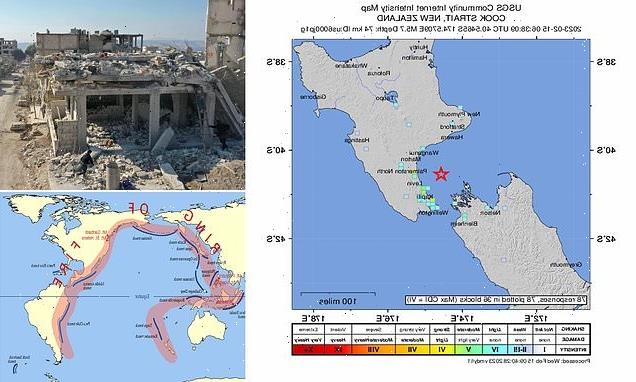 Why are there so many earthquakes? Experts explain why tremors have rocked Turkey, Syria and New Zealand this month – and reveal where the next one could be
New Zealand suffered an earthquake around magnitude six on Wednesday 

Death toll from the Turkey-Syria quake on February 6 has passed 40,000 

Geologists and academics now explain whether the two events are related 
Less than two weeks after the tragic earthquake that has killed more than 40,000 people in Turkey and Syria, another shake has rocked New Zealand. 
Wednesday's 'widely felt' tremor, around magnitude 6, jolted both New Zealand's islands, although thankfully there's been no immediate reports of damage or injury. 
Earthquakes are happening all the time, from the ones too small to even be noticed to the devastating high magnitude quakes that lead to thousands of fatalities. 
But its occurrence so soon after the disaster in Turkey and Syria begs the question – could they be linked? 
Here, MailOnline takes a closer look at today's event and whether it's related to the catastrophic tremor in the Middle East last week. 
The New Zealand quake has been described by various organisations as somewhere between magnitude 5.7 and 6.1. It struck at 7.38pm local time (6:38am in the UK)
WHAT HAPPENED? 
READ MORE HERE: Earthquake rocks New Zealand with the nation still recovering from a devastating cyclone 
The 'widely felt' tremor, around magnitude 6, jolted both New Zealand's islands
The epicentre of Wednesday's quake was the Cook Strait – the body of water that separates the North and South Islands of New Zealand. 
It struck on Wednesday at a depth of around 50 miles (74km), according to the US Geological Survey, at 7.38pm local time (6:38am GMT).
A witness felt a strong shaking that lasted several seconds in the capital city of Wellington, according to Reuters. 
GeoNet, an agency that monitors geological hazards, said it received more than 61,000 reports from people who had felt a jolt. 
Fortunately GeoNet said 'no tsunami is expected', which can happen when an earthquake epicentre is off land. 
It comes after Cyclone Gabrielle caused significant damage across the North Island this week, leaving four people dead, more than 10,000 people displaced and widespread damage. 
WHAT CAUSES EARTHQUAKES? 
It's well-known that earthquakes occur when two tectonic plates that are sliding in opposite directions stick and then slip suddenly. 
New Zealand is on the boundary between two tectonic plates, the Australian Plate and the Pacific Plate, although larger neighbour Australia is further away from the boundary has less severe tremors. 
Earth's lithosphere – its rocky, outermost shell – is formed of around 15 tectonic plates, each of different shapes and sizes. Map shows the tectonic plates of the lithosphere on Earth. Note New Zealand at the border of two plates 
Aerial view shows people trying to recover items from the rubble of a collapsed building in the Syrian rebel-held town of Jindayris on February 15, 2023, following the February 6 earthquake that hit Turkey and Syria
'The Earth's crust is made up tectonic plates that move relative to each other,' Dr Jessica Johnson, a geophysicist at the University of East Anglia, told MailOnline. 
Can earthquakes be predicted? 
Although it is known that most global earthquakes will concentrate at the plate boundaries, there is no reliable method of accurately predicting the time, place and magnitude of an earthquake. 
Most current research is concerned with minimising the risk associated with earthquakes, by assessing the combination of seismic hazard and the vulnerability of a given area. 
Many seismic countries, however, have research programs based on identifying possible precursors to major earthquakes. 
Source: BGS 
'At the boundaries of these plates, rock moving past each other can build up stress due to friction and suddenly slide, resulting in an earthquake.' 
Severe earthquakes normally occur over fault lines where tectonic plates meet, but minor tremors – which still register on the Richter sale – can happen in the middle of these plates. 
Earthquakes are often followed by additional earthquakes, called aftershocks, which are usually smaller than the mainshock but can still be damaging or deadly. 
However, aftershocks occur in the same general area, so the New Zealand quake is a totally different event.  
ARE THE TWO EARTHQUAKES LINKED? 
Dr Johnson said there's no link between the New Zealand and Turkey-Syria quakes and that they 'are not related'.
This is partly because the two regions are too far away – around 10,000 miles – which is way beyond the category of an aftershock.  
'At tectonically active regions, small earthquakes are happening very frequently, and often they are not felt,' Dr Johnson told MailOnline.
'However, when an earthquake is larger and closer to the surface, the shaking can be felt and cause damage.
'When an earthquake happens, it can transfer stress onto other nearby faults and make those faults more or less likely to fail. 
'However, faults in New Zealand and Turkey are too far away for these stresses to affect each other.'  
Volunteers and rescue teams work for on a ruined building on February 10, 2023 in Elbistan Turkey
Likewise, David Rothery, Professor of Planetary Geosciences at the Open University, told MailOnline: 'No earthquake in New Zealand can possibly be a consequence of an earthquake in Turkey.' 
READ MORE: What are the world's earthquake hotspots? 
Places most prone to deadly earthquakes include New Zealand, Indonesia, Turkey, Iran, China, Philippines, Peru and the west US coast
According to British geologist Roger Musson, earthquakes 'are far more numerous than most people realise' and so the ones with less impact 'pass the non-seismologist by'. 
'I wouldn't have said that there were particularly many at the moment, apart from all the aftershocks in Turkey,' Musson said.
According to the National Earthquake Information Center, there's about 20,000 earthquakes around the world each year, or approximately 55 per day, although there's only about 16 major earthquakes per year.
IS CALIFORNIA NEXT? 
In the US, California has more earthquakes that cause damage than any other state, although there are quakes in the Midwestern and Eastern states too. 
California is just one global location that sits along the so-called 'Ring of Fire' – a long seismically active belt around the rim of the Pacific Ocean. 
Somewhere between 80 to 90 per cent of the world's earthquakes occur along the Ring of Fire, which despite its name is more of a horseshoe shape. 
Somewhere between 80 to 90 per cent of the world's earthquakes occur along an area commonly known as the 'Ring of Fire'
California is prone to earthquakes because it lies on the San Andreas Fault, where two tectonic plates come together. 
Earthquake magnitude scale 
Great: 8.0 or larger 
Significant damage expected
Major: 7.0 to 7.9
Damage expected
Strong: 6.0 to 6.9
Damage may occur
Moderate: 5.0 to 5.9
Minor damage may occur
Light: 4.0 to 4.9
Likely felt
Minor: 3.0 to 3.9
May be felt 
The San Andreas Fault extends roughly 750 miles through the western US state, with the Pacific Plate on one side and the Pacific Plate on the other. 
Locals frequently talk about the 'Big One' – a hypothetical earthquake of 7.8 magnitude or higher striking California soon. 
The thing is, a temporary increase or decrease in seismic events globally is part of the normal fluctuation of quake rates. 
In other words, the two recent high-strength quakes offer no clue to where the next one will be.
'There is always a chance that another large earthquake will happen somewhere else (e.g. in the US), but it is not more or less likely because of these earthquakes,' Dr Johnson told MailOnline. 
Although it is known that most global earthquakes will concentrate at the plate boundaries, there is no reliable method of accurately predicting their time, location and magnitude. 
Using artificial intelligence (AI) techniques like machine learning isn't much use because such technology looks for patterns to make conclusions. 
'Large earthquakes don't occur like clockwork,' said James S. Neely at Northwestern University's Department of Earth and Planetary Sciences.
'Sometimes we see several large earthquakes occur over relatively short time frames and then long periods when nothing happens.
'The traditional models can't handle this behaviour.'
This doesn't stop people trying to look for patterns in earthquake data to form conclusions, however. 
A Dutch researcher called Frank Hoogerbeets works at the Solar System Geometry Survey (SSGS), an organisation that studies 'geometry between celestial bodies related to seismic activity'. 
In a tweet dated February 3, he said that 'sooner or later' there will be a magnitude 7.5 earthquake in south-central Turkey, Jordan, Syria or Lebanon.
The tweet went viral after the event – but the vague 'prediction' was based on nothing but pseudoscience. 
SSGS regularly makes predictions of where earthquakes are about to occur, but these are mostly inaccurate and akin to throwing enough darts to eventually hit a bullseye. 
Any link between celestial bodies and seismicity 'has been debunked many times', according to Musson. 
'A big earthquake will hit California 'sooner or later'. So what? A prediction must specify a time or it's not a prediction,' he told MailOnline. 
Professor Rothery added: 'Saying that there will be an earthquake 'sooner or later' on a known major fault is a prediction that we could all make, and it has no useful value at all.' 
How Turkey's deadly earthquake moved the country by 10 FEET: Tremor was so powerful the tectonic plates beneath Ankara have slipped in relation to Syria, experts say 
Massive earthquakes that hit Turkey on Monday have shifted the tectonic plate it sits on by up to 10 feet (three metres), experts say.
The country lies on major faultlines that border the Anatolian Plate, Arabian Plate and Eurasian Plate, and is therefore prone to seismic activity. 
Meteorologists revealed that an 140 mile (225 km) stretch of the fault between the Anatolian Plate and the Arabian Plate has ruptured.
The epicentre was just north of the city of Gaziantep at a depth of around 11 miles (18 km), according to the US Geological Survey (USGS)
Italian seismologist Dr Carlo Doglioni told news site Italy 24 that as a result, Turkey could even have slipped by up to 'five to six metres compared to Syria'.
Read more 
Source: Read Full Article