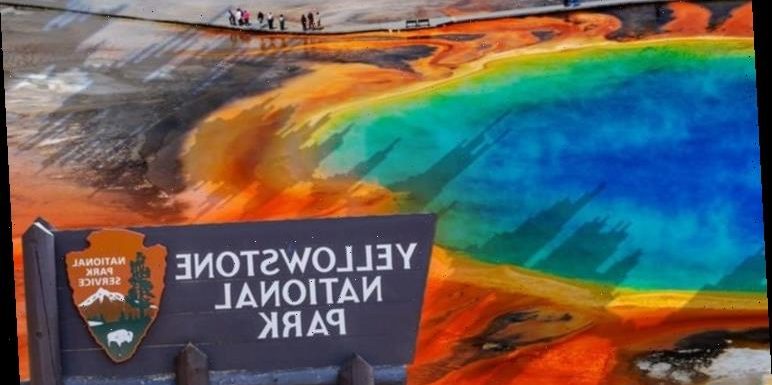 Yellowstone: Immediate impact of eruption discussed by expert
When you subscribe we will use the information you provide to send you these newsletters.Sometimes they'll include recommendations for other related newsletters or services we offer.Our Privacy Notice explains more about how we use your data, and your rights.You can unsubscribe at any time.
February has been a fairly uneventful month for Yellowstone volcano, according to the latest report from the US Geological Survey (USGS). The US supervolcano was only rocked by 67 minor earthquakes, the strongest of which reached magnitude 2.4. Many people, however, live in fear of Yellowstone being overdue for another super eruption.
Yellowstone has had at least three major blasts in the last 2.1 million years.
The most recent event, the so-called Lava Creek eruption, went off about 630,000 years ago and shaped many of Yellowstone's modern-day features.
The other two went off 1.3 million and 2.1 million years ago, leading some to speculate – wrongly – that Yellowstone erupts like clockwork.
And though there have been weaker eruptive episodes since the Lava Creek eruption, the thought of another super blast has people quaking in their boots.
Such an eruption would likely blanket swathes of the US in volcanic ash, destroy key infrastructure and crops, and possibly affect climate patterns on a global scale.
Social media is rife with unsubstantiated claims and conspiracies about the supervolcano – claims the USGS has been diligently debunking.
One person tweeted: "How am I supposed to get ready for work tomorrow knowing full well that Yellowstone is overdue for a massive explosion and the magnetic poles will flip someday?"
Another person said: "Keep in mind the worlds largest volcano is about overdue.
"Every 600,000 years, Yellowstone goes off. It could seriously impact all life on Earth. Also, the magnetic poles have started to flip."
And a third person said: "Uhhh Yellowstone is most definitely overdue to erupt, by over 60,000 years."
But Yellowstone is not overdue another blast and there is no evidence to suggest otherwise.
Good news – Yellowstone isn't overdue!

US Geological Survey (USGS)
February's seismic activity was fairly standard if somewhat below average for the Yellowstone area.
According to the USGS, the Yellowstone Seismic Network only detected 67 earthquakes in the Yellowstone National Park region.
The strongest tremor struck on February 2, about 13 miles north of Pahaska Tepee in Wyoming.
But even this tremor only reached magnitude 2.4, meaning it was probably not even felt by local residents.
A swarm of earthquakes was also recorded between February 1 and February 16.
DON'T MISS…
Yellowstone supereruption could cover North America in ash [REPORT]
Asteroid Apophis to pass Earth this week [INSIGHT]
Meteor: Fireball over US prompts fears of plane crash [VIDEO]
The quakes were in the range of magnitude 0.3 to 2.3, with the strongest event on February 4.
The USGS said: "Earthquake sequences like these are common and account for roughly 50 percent of the total seismicity in the Yellowstone region.
"Yellowstone earthquake activity remains at background levels."
None of this is unusual as Yellowstone witnesses anywhere between 700 and 3,000 earthquakes per year.
And it does not imply Yellowstone is charging up for another major eruption.
The USGS tweeted in response to a claim suggesting otherwise: "Good news – Yellowstone isn't overdue!
"It doesn't work that way, and even if it did, we'd have 100,000 years or so to go."
February also witnessed two eruptions of the world-famous Steamboat Geyser.
Groundwater levels around this time of the year are low and the intervals between Steamboat eruptions are longer than usual.
The eruptions went off on February 3 and February 21, which is typical of winter.
Source: Read Full Article