Contract talks between Rugby Australia and Israel Folau will remain on hold until after the June Test series but the Wallabies are confident the dual international will stay put.
Michael Cheika said Folau wanted to stay in Australia and keep playing rugby but said talks on a new deal had been put on the back burner to allow all parties to focus on the footy.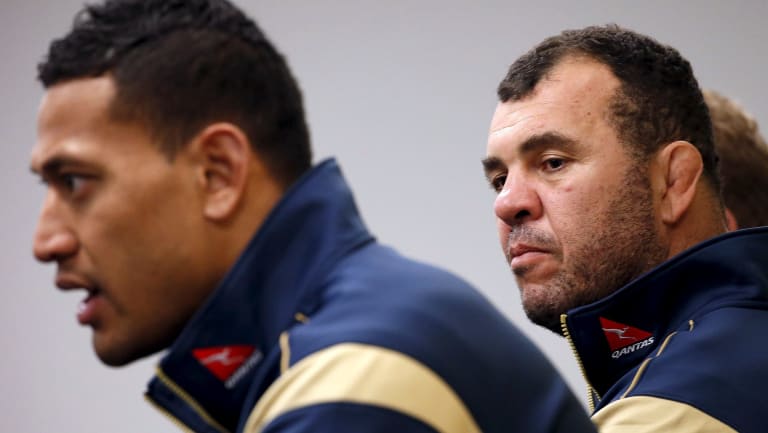 Test focus: Israel Folau and Michael Cheika in 2015.
"He wants to stay with the Wallabies and in rugby in Australia. We'll get into June and then after that we can try to finalise what happens with him going forward," Cheika told Macquarie Sports Radio on Thursday.
"That could happen sooner but the big focus for us right now has to be…we've got the northern hemisphere champions coming to Australia for a three-match [tour] and if I'm not thinking about that then I'm not doing what every other Aussie fan wants me to do."
Cheika revealed he had spoken to Folau about the fallout from his controversial social media posts but had not reprimanded the fullback.
"We've spoken but I'm not going to be reading the riot act about things to anybody," he said.
"I'm going to be reminding guys about what the team is about, what it means to be part of the team and then guys make their decisions from there. Izzy wants to be a part of the team. Not just now, in the future as well.
In form: Israel Folau scores a try for the NSW Waratahs against the Crusaders in Christchurch on Saturday.
"There's a lot of people that think he's trying to use it as some tactic to get out of playing [rugby]. If he wanted to go he could go easily. He wants to play rugby, he understands that he doesn't want to affect the team around those things."
Three more rounds of Super Rugby remain before the June break and Folau has hit his straps on the field after a month sidelined with a hamstring injury. He will be a valuable asset for Australia when Six Nations champions Ireland hit these shores. The Joe Schmidt-coached side are ranked second in the world behind New Zealand and are poised to travel at full strength.
Cheika had not spoken publicly about Folau's anti-gay comments until this week. He told Fox Sports' Kick & Chase on Wednesday night that children needed to cultivate enough self-esteem to reject opinions they did not agree with, even if they came from sporting idols like Folau. On Thursday his focus was back on the rugby.
"There's been a lot of conjecture about it from all different sides, left side, right side, all that type of stuff," he said.
Nick Phipps and Israel Folau celebrate after the Wallabies win the third Bledisloe Cup Test in Brisbane.
"We need to be focusing on the footy, right, and getting ourselves clear on what you were talking about – a big series coming up against the northern hemisphere champions. To do that we've got to have everyone focused on footy. This has been done, it's been dealt with now and it's not going to be ongoing, so it's not going to be an issue."
Folau is the Highlanders' issue this weekend and the Waratahs are expecting an aerial assault on their back three from the Dunedin side at Allianz Stadium on Saturday.
Ben Smith in action for the Highlanders this season.
"When they're on they're a very dangerous side," Highlanders coach Aaron Mauger said. "They've got a lot of threats across the park and when their forwards are giving them that momentum they create space for the likes of [Bernard] Foley, [Kurtley] Beale, Folau and [Taqele] Naiyaravoro.
"It's a pretty potent sort of a back line they've got there and when they achieve those things they look very dangerous. We're expecting them to be at their best and we have some good plans to counter those threats and make sure they don't have plenty of opportunities to run the open spaces."
Mauger named a full-strength side on Thursday, surprising the pundits with Ben Smith at fullback and Aaron Smith at No.9. The New Zealand provinces have agreed to give their All Blacks players two weeks' rest in the regular season but Mauger said his fullback would sit out their clash with the Reds in the next round.
"Ben's a little bit different, he had his [six-month] sabbatical last year so he's had a little bit of time off," he said.
"We also didn't play Ben in the [Brisbane Tens], which was a request of the All Blacks, where we potentially could have. So that's been pretty well managed between ourselves and the All Blacks."
Source: Read Full Article