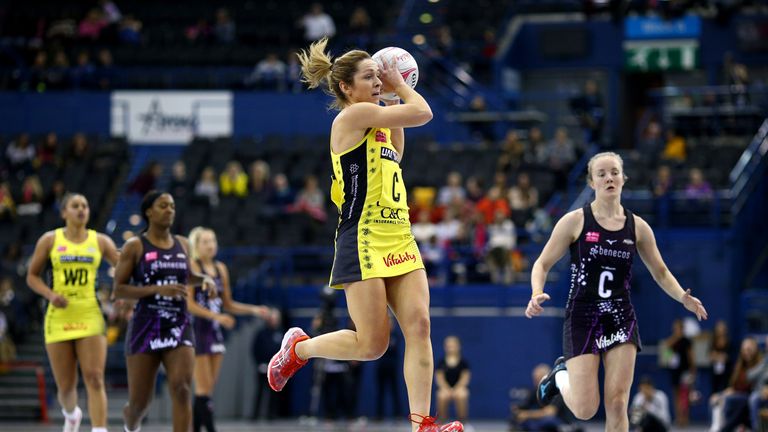 Manchester Thunder and Saracens Mavericks chalked up big wins as Round Seven in the Vitality Superleague reached its conclusion on Monday night.
The pair sit just behind Wasps in the table and maintained those positions, third-placed Thunder racking up the highest goal tally of the season in beating Celtic Dragons 83-56 in Cardiff and second-placed Mavericks were 65-37 winners at home to Pulse.
It means both teams move onto 15 points and are just three behind leaders Wasps, who were victorious on Friday night against Bath to maintain a perfect start to the season.
Mavs are second on goal difference but Thunder and Wasps have a game in hand and they clash in a high-profile rearranged fixture next Wednesday after this weekend's Round-Eight action.
100 per cent Wasps win again
Lightning strike to move into top four
Vitality Superleague Round Seven – Results
A powerful Thunder side overcame a dogged start from the home team in South Wales, with Dragons getting the best of the opening 10 minutes to force an early lead.
However, Thunder are a difficult side to stop once they hit their stride and having fought their way into a 21-13 lead after the opening 15 minutes, they were given a tough test in the second quarter before powering away down the stretch.
Dragons, boosted by the return of Bethan Dyke after a year out with injury, were edged out by one goal in the second quarter but Thunder, with Clare Elsley making a difference in the mid-court, took a nine-goal lead in the second half.
Great bounce back result tonight… performance was steady throughout , stayed in control to eventually wear down a resilient Dragons side. Quick review & recovery before we look ahead to… https://t.co/eWyxmYhmf8
The introduction of Caroline O'Hanlon helped Thunder gain control in the third quarter but Dragons stayed competitive and were within 10 heading into the final 15 minutes
However, Thunder proved too strong in the closing stages and 25 goals underlined an impressive showing as the defence kept Dragons quiet.
At the Hertfordshire Sports Village, Saracens Mavericks also put on a display of attacking prowess to leave London Pulse rooted to the foot of the Superleague table.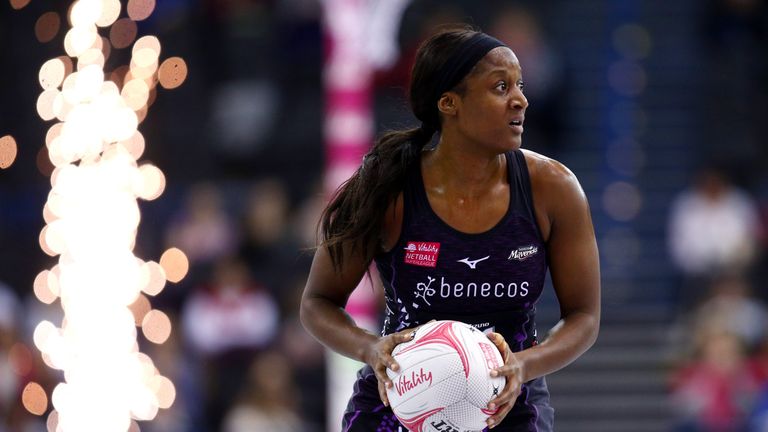 Sasha Corbin helped the hosts into a 15-10 lead, which they extended to nine goals by half-time with Kadeen joining sister Sasha in inspiring a string of impressive attacks.
Fisher's Mavericks Diary
Latest Vitality Superleague table
How good was last nights game. All 12 players out on court. @Kadeen_Corbin well deserved POTM. Massive shout out to @PaigeMcCalla on your SL debut – you smashed it girl! A sell out crowd – feeling the supporter love. And another win in the bag. Life's good @SaracensMavs ????
As is so often the case, the third quarter proved crucial with Mavericks stretching their lead as Pulse could not keep pace with the relentless pace from the home team.
Lindsay Keable, Gabby Marshall and Jo Trip ensured their was plenty of ball for the attacking end to feed off and with George Fisher and the Corbin sisters showing no let up, Mavs entered the final quarter leading 47-31.
A dominant final quarter gave Mavericks their biggest win of the season, with Kadeen Corbin awarded the Player of the Match following a strong all-round performance that helped seal all three points.
Superleague is back on your Sky Sports screen on Monday, March 4 when Severn Stars host Saracens Mavericks in the final round of Round Eight – join us on Sky Sports Mix & Action from 6.45pm
Source: Read Full Article