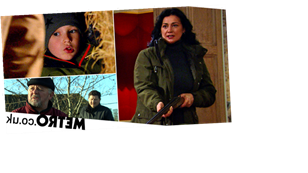 Emmerdale has been firing on all cylinders this month, and the drama very much continues to deliver next month, with an explosive week that could change everything.
Mackenzie Boyd's (Lawrence Robb) plan to get revenge on Kim and Jamie Tate (Claire King and Alexander Lincoln) leaves the latter fuming.
Jamie therefore attempts to seek revenge of his own, and sets off to Butlers farm with a petrol canister in hand, before dousing the surrounding area.
Little does he know that Kyle Winchester is playing in the barn! Will tragedy strike?
That remains to be seen, but a vengeful Moira Dingle (Natalie J Robb) soon heads up to Home Farm with a gun, and before long, shots are fired.
Has she murdered someone?
It's all kicking off in the Dales next week, and if you simply cannot wait to see what happens, then check out our first-look gallery, which previews all of the drama to come.
Emmerdale airs these scenes w/c Monday February 1 at 7pm on ITV.
Source: Read Full Article