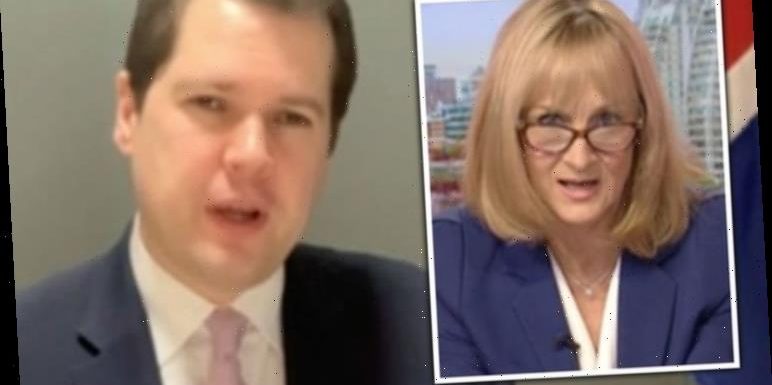 BBC Breakfast: Dan confronts Carol over 'north-south divide'
On Tuesday, Boris Johnson addressed the nation after the UK became the first country to pass 100,000 deaths from coronavirus. Housing Secretary Robert Jenrick was welcomed onto BBC Breakfast today by Louise Minchin to discuss the tragic milestone but BBC viewers weren't happy with the interview and took to Twitter to slam the discussion.
One said: "#BBCBreakfast Hindsight!! this interview is an insult to the country's grieving thousands."
Another wrote: "@louiseminchin seems nice a nice lady but she isn't really holding Jenrick to account. He is free to spout his propaganda. #BBCBreakfast."
"I hope @RobertJenrick is doing @GMB this morning. As sadly @BBCBreakfast is useless. Disappointed! You can tell now the #beeb is run by the right wing @ConHome @Conservatives," a third added.
However other viewers slammed Minchin for questioning Jenrick on the "mistakes" the government has made.
Read more: Dan Walker: BBC Breakfast host divides viewers with lockdown hairstyle
We will use your email address only for sending you newsletters. Please see our Privacy Notice for details of your data protection rights. Dan Walker brands Louise Minchin 'miserable' after wardrobe blunder 
One tweeted: "@BBCBreakfast stop with the criticism – and demands about mistakes – please be positive #fedup #crapjournalists #nothelpful."
Someone else shared: "@BBCBreakfast no govt has ever had to face anything like this before. Of course they've made mistakes but hindsight is a wonderful thing. Why don't we pull together instead of tearing each other apart?"
"@BBCBreakfast Why would you expect any government to not have made mistakes during a pandemic. You criticise constantly and never praise at all. You must all be Labour voters. You are not only criticising the government you are criticising health professionals," another wrote.
More to follow…
Source: Read Full Article