90 Day Fiancé: Happily Ever After? stars Nicole Nafziger and Azan Tefou have been one of the most controversial couples in the TLC franchise since they made their debut in season 4 of the original series. Some fans are convinced the relationship is completely fake. Others believe Nicole is a bad mom who has prioritized Azan over her daughter May. There is also a group that believes Azan is scamming Nicole for cash.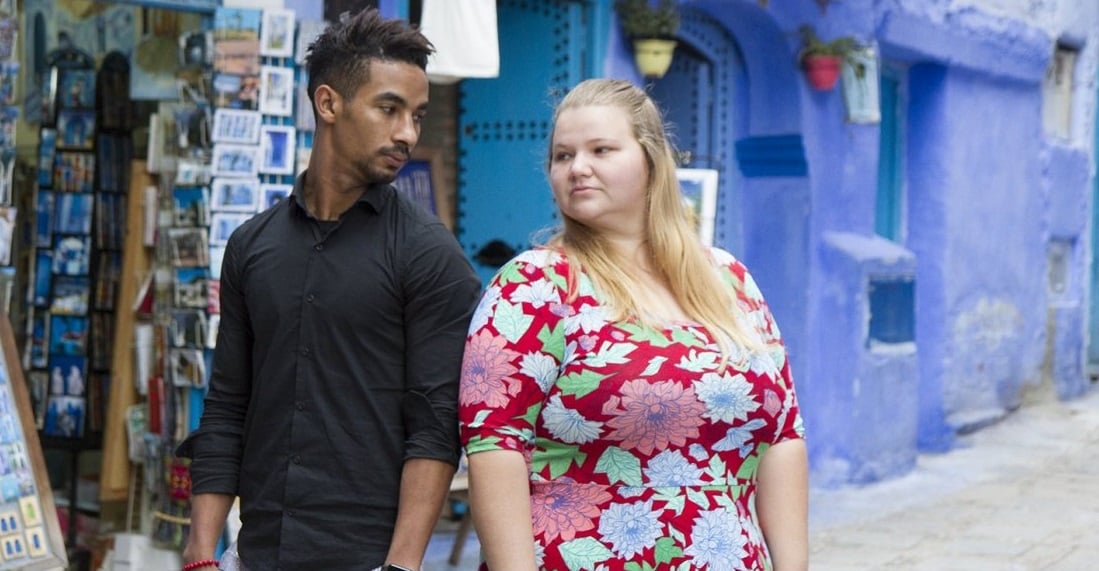 No matter their complaint, fans let her know all about it on social media. The latest fan theory is that Nicole took over Azan's Instagram and is the real author behind his latest post.
The '90 Day Fiancé' stars have very different social media habits
Nicole and Azan have been together for nearly five years and have been engaged for three. They still haven't tied the knot due to money and visa issues. Nicole has visited Azan in Morocco a handful of times, but their relationship is mostly long distance.
During their time on 90 Day Fiancé, Nicole has attempted to capitalize on her reality TV fame via social media. With nearly 700K followers, Nicole has become an influencer with a monetized Instagram account and she posts regularly.
Her feed is littered with sponsored posts and clickbait headlines. Nicole also posts selfies, pictures of her daughter, and pics of Azan. At the same time, Azan almost never posts on Instagram.
Over the past few months, the fitness trainer has shared a handful of thirst trap gym selfies after avoiding IG for an entire year. The last time he posted anything about Nicole was in May 2017. But that recently changed.
Nicole Nafziger explains why Azan rarely posts on social media
Nicole regularly does Q&A sessions with fans, and she has attempted to explain why Azan never posts about their relationship.
"There are people (men and women) who feel they don't need to post pics of their significant other on social media to show love," Nicole explained. "As long as he shows it to me, that's what matters. I'm a person who likes to post pictures and do the social media thing. It's not a big thing for him. That doesn't mean he loves me any less."
The Hollywood Gossip points out, that is a very logical explanation for a normal couple. But Nicole and Azan are far from normal. Azan has never appeared to be that interested in Nicole, and he even body-shamed her when they first met.
Fans keep asking why a fitness-obsessed Muslim living in Morocco would be interested in marrying a Christian single mom in Florida who he claims he is only "55 percent" attracted to.
'90 Day Fiancé' fans are skeptical about Azan's latest Instagram post
Screen Rant noticed that Azan just posted a pic with Nicole for the first time in more than three years. In the caption he wrote, "I love you soooo much babe and I miss you. And I'm so jealous of people who get to see you every day ❤️."
90 Day Fiancé fans immediately flocked to the comments section to voice their skepticism. Most didn't believe that Azan was in control of his own Instagram account. The popular theory among fans is that Nicole posted the photo and wrote the caption.
To most fans, it was odd that Azan suddenly declared his love for Nicole out of the blue. They also found it strange that the post appeared not long after she posted a clickbait article sparking rumors of his death.
"Hasn't posted a pic of them together since 2017. Seems legit 😂," @fl0ridaw0man wrote.
Other fan comments included, "Nice post Nicole," and "I'm like 65% sure this is Nicole." Some fans pointed out that Nicole posted the exact same photo on her account back in March when she was in Morocco.
Fans who are sure Azan scammed Nicole out of $6,000 added comments like, "The wire transfer must have gone through."
New episodes of the 90 Day Fiancé franchise air Sunday nights on TLC.
Source: Read Full Article