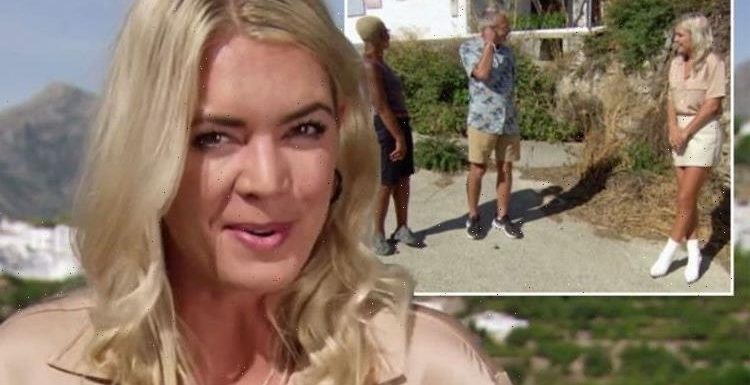 A Place in the Sun: Guest says the villa 'looks okay'
When you subscribe we will use the information you provide to send you these newsletters. Sometimes they'll include recommendations for other related newsletters or services we offer. Our Privacy Notice explains more about how we use your data, and your rights. You can unsubscribe at any time.
Channel 4 viewers were whisked off the sun-soaked shores of Axarquia, Andalucia, Spain on Wednesday as Danni Menzies did her best to find Clover and Mark their dream home abroad. The recently retired pair were looking to start a new life in the area's famous white villages and with a budget of £300,000, Danni had her work cut out to find them their forever home. And despite the A Place in the Sun host ticking off all of their boxes with the first few properties on show, property number four was far from what Clover and Mark wanted.
Keen for a three-bedroom property, Danni had gotten off to a relatively okay start when she took Clover and Mark to Frigiliana for property number one.
Property number two continued to give the couple something to think about after Danni showed them a three-bed villa in Cómpeta – although it came with a staggering price tag of £334,000.
But both the properties were blown out of the water by the third option – a three-bed apartment in Sedella priced at £274,000 and located near a bustling selection of bars and restaurants.
The village of Canillas de Aceituna was next on the list for Danni as she hoped to continue to impress – although she couldn't have been more wrong.
Property number four had seemed ideal once the pair arrived in the area, with Mark commenting the location was "almost too appealing".
But upon seeing the three-bed villa Danni lined up, the mood soon changed.
"Right, so here we are, this property right here. What are your first thoughts?" Danni asked.
Seeming upbeat, Mark weighed in: "I think it's a great view from where we're stood now. Again, looking into the mountains."
However, Clover offered a rather lukewarm reception to the seemingly perfect home: "Looks okay."
In disbelief by Clover's underwhelming snub of the house, Danni let out a surprised laugh before questioning: "Okay?"
Expanding further, Clover added: "I just think it looks a bit… round and about, it's not as pristine as the other property.
"It needs a bit of maintenance," Clover added, throwing a spanner into Danni's plans.
DON'T MISS:
A Place in the Sun: Ben Hillman exasperated with 'difficult' property
A Place in the Sun guest in tears as she's scolded for 'cheeky' offer
A Place in the Sun's Lee Juggurnauth slams government travel policy
Nevertheless, Danni took Mark and Clover inside the property in the hopes of winning them over.
But it was to no avail, as Clover's reservations continued after exploring the interior.
"The house itself looks a bit tired, it needs love and attention," she said when they reconvened with Danni after their look around.
Husband Mark agreed property number four wasn't appealing to him and the pair ruled it out of the running.
Danni did manage to win the duo over with her final property on offer, however – a two-bed villa in Alcaucin.
So much so, they decided to put forward an offer, but not without a bit of back and forth beforehand.
Clover and Mark offered over £30,000 less than the vendor's original £324,000 asking price.
And after some tough negotiations, the pair landed their dream home for exactly £300,000.
A Place in the Sun continues weekdays at 4pm on Channel 4.
Source: Read Full Article