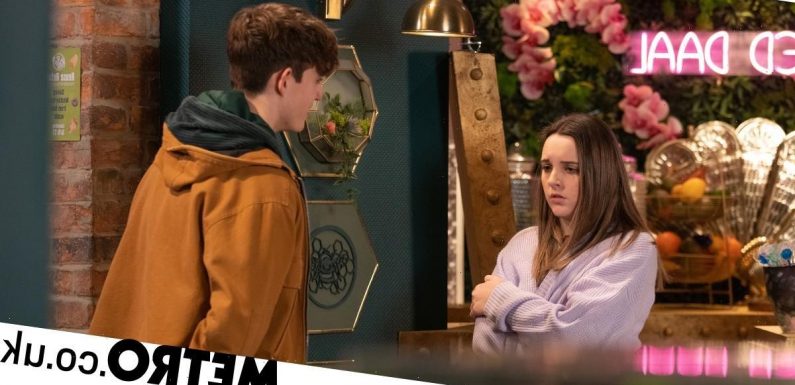 Tonight's episode of Coronation Street saw Amy Barlow (Elle Mulvaney) come to the realisation that she had been raped by Aaron Sandford (James Craven).
On Friday night (March 3), viewers saw Aaron remove Amy's underwear while she was passed out on her bed, after an evening of heavy drinking.
Waking up the next morning, Amy realised that she had absolutely no memory of the previous night, and was left to put the pieces back together after spotting an empty bottle of vodka and her underwear on the floor.
As an attempt to cure their hangovers, Asha Alahan (Tanisha Gorey) and Nina Lucas (Mollie Gallagher) organised a lunch at Speed Daal, where Amy and Aaron came face to face for the first time.
It was then that Aaron revealed that he had had sex with her, leaving Amy shaken.
However, it seemed that Aaron was unable to grasp the severity of what he had done, as he asked Amy not to tell girlfriend Summer Spellman (Harriet Bibby) for the sake of their relationship.
Horrified, Amy asked whether or not he had used protection, and when he admitted that he didn't know, she headed off to get the morning after pill, telling him to inform the rest of the group that she wasn't well.
Later, unable to be in the same room as Aaron, she made the decision to move back in with her parents.
After some questioning from mum Tracy Barlow (Kate Ford), Amy headed out for some air, where she came face to face with Aaron once more.
In a heated confrontation, she made it clear that she couldn't have consented to the sex, due to how much she had had to drink.
To view this video please enable JavaScript, and consider upgrading to a webbrowser thatsupports HTML5video
Fearful Aaron refused to accept what she was saying, and ultimately told her that she was as much to blame as him for them having sex, leaving Amy horrified.
Throughout the episode, characters such as Summer, Asha and Tracy all expressed worry for the way that Amy was acting.
Will Amy open up what she has been through, or will she believe Aaron's lies?
Coronation Street continues Wednesday March 7 at 8pm on ITV1 and ITVX.
If you've got a soap or TV story, video or pictures get in touch by emailing us [email protected] – we'd love to hear from you.
Join the community by leaving a comment below and stay updated on all things soaps on our homepage.
Source: Read Full Article