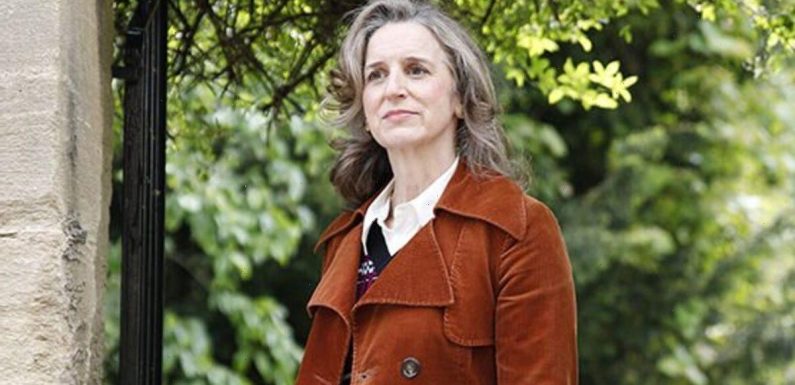 Endeavour: Fred discusses new job with his boss
We use your sign-up to provide content in ways you've consented to and to improve our understanding of you. This may include adverts from us and 3rd parties based on our understanding. You can unsubscribe at any time. More info
Endeavour is back for a final season and in the upcoming episode, Morse (played by Shaun Evans) looks into a missing person case involving a notable artist. His friend Dorothea Frazil (Abigail Thaw) returns to offer her assistance. Express.co.uk has all you need to know about how old Abigail Thaw is.
How old is Abigail Thaw?
Thaw has been a part of the Endeavour family since day one and her character is the editor at the Oxford Mail newspaper.
She became close to young Morse and the pair developed a sibling-like relationship.
The actress was born in London to actor John Thaw and his first wife, Sally Alexander.
After school, she attend RADA, where she met her husband, actor Nigel Whitmey.
The star was born in October 1965, making her 57 years old.
Her parents divorced in 1968, when she was just three years old.
On her mother's side she has a half-brother and on her father's side she has an elder stepsister and a half-sister.
The star's stepmother is actress Sheila Hancock.
Following her parents' divorce, Thaw kept in regular contact with her father.
He took on the role of the original Inspector Morse in 1987 and continued in the role until 2000.
The star died two years later, in 2002, at the age of 60.
In January, Abigail took to Twitter to pay tribute to her father on what would have been his 81st birthday.
DON'T MISS…
Endeavour's Fred Thursday to die as fans 'work out' exit
Endeavour's Shaun Evans confirms Morse's future with Joan Thursday
Endeavour actor Shaun Evans used to date an Irish singer
Posting a photo of the two of them together when she was a young child, she said: "Happy birthday dad. Not a day goes by…"
The star spoke out about how she was in awe of her father's long career as Endeavour.
She also spoke to Masterpiece about following in her father's footsteps.
When asked whether she felt any trepidation, she said: "Oh, sure. Yeah, of course.
"I mean as I said, I thought, 'You can't possibly! You can't do another Morse! What would Dad think?'
"And then, I thought about it and I just thought, 'Well, actually I think he'd be really approving.'
"Because it's a very different era, a very different animal from the original Morse, and it's just rather wonderful that people still want to see it in all of its forms.
"And, I feel really proud. I really do, actually."
Endeavour airs on ITV on Sundays at 8pm
Source: Read Full Article