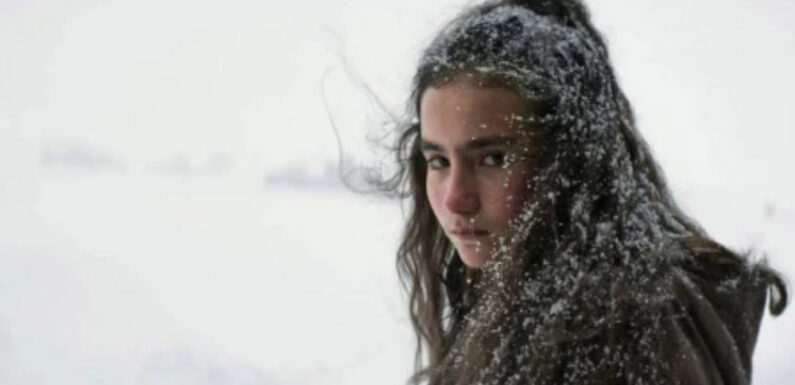 Nuri Bilge Ceylan loves snow. The depths of winter, people in thick coats, frozen taps, the sense that these long, bitterly cold seasons in mountain regions will never end. This is all working material for the Turkish master whose Winter Sleep won the Palme d'Or in 2014. "What am I doing here?" is the regular moan from Samet (Deniz Celiloglu), the art teacher in the village school in About Dry Grasses.
Meaning: what is a man of the world doing teaching potato farmers' children how to draw a horse? Why is he in this desolate country with two seasons that turn over so quickly that once the snow melts, the buried yellow grass almost immediately is turned brown by the fierce summer sun? Even the grass has no chance in life: It's unbearable. It's like him, he muses in a rare voice-over, condemned by circumstance to insignificance.
Related Story
Cannes Film Festival 2023: All Of Deadline's Movie Reviews
Ceylan explicitly acknowledged Chekhov's guiding spirit in Winter Sleep. About Dry Grasses catches the same drift of middle-class melancholy. Samet and the other teachers have too little to do, far too much to say and a collective resentment of the fact that they are teachers. Not that Samet does much actual teaching; he stares out of the window, puts the tops back on the felt pens on his desk and occasionally invites Sevim (Ece Bagci), the brightest girl in his class, to answer a random question. His favoritism extends to giving Sevim little gifts, things you can't get in the village. He lends her books; she comes into his office and giggles with him. The other kids notice, of course. You can see trouble ahead.
RELATED: Cannes Film Festival Photos: Gallery Of Premieres & Parties
Samet shares a house with another teacher, Kenan (Musab Ekici), who is swept up into his wake when someone accuses them both of having touched students inappropriately. The district education director won't say who accused them or what they are supposed to have done; battling this bureaucracy's rules is like wrestling with smoke.
Not that it is hard to guess the source of this malicious accusation. Samet tries to goad Sevim into admitting to it, but she slips from his grasp like an eel. They both know that he was fixated on her. She is young, vigorous, determined, anticipating her own future — all the things he is not. Somewhere in his mind, beyond his image of the real Sevim, he had constructed a dreamland out of her energy, where both he and life were different.
RELATED: Full List Of Cannes Palme d'Or Winners Through The Years: Photo Gallery
Ceylan constructs his own imaginary sliver of a universe over more than three hours of dense dialogue. Whether it's the teachers squabbling in the staffroom, Samet swapping life advice over whisky with his friend the plumber, Samet talking to himself or Samet and Kenan or both solving the riddles of life with their new friend Nuray (Merve Dizdar), it is through argument that they make sense of the world.
Nuray is introduced to Samet by a mutual friend who thinks they would be a good match; she is an English teacher from another school, a political activist who lost a leg to a suicide bomber during a demonstration and now walks with the help of a prosthetic. She and Kenan clearly are attracted to each other, another reason for Samet to be bitter.
RELATED: Deadline's Complete Coverage Of The Cannes Film Festival
Samet becomes, in fact, an embodiment of bitterness: bowed, glowering and more combative than ever. Even so, he never becomes unsympathetic. The fact that Samet cannot find the significance in the life he has, rather than yearning for another life without lifting a finger to make it happen, is his tragedy. He is, after all, just a human.
Not everyone can stomach hours of verbal sparring, often so frustratingly abstruse that it takes a long time to find the real subject of each conversation. Ceylan's approach to his staffroom conflict, building it brick by conversational brick, demands close attention and far more patience than many people have in the bank. Even this country, with the white peaks of the Armenian border rising in the distance, is seen through Samet 's eyes as oppressive rather than grand.
For Ceylan's many fans, however, this is another opportunity to slip into his world, spot his sly political references and subside for a while into the life of the mind. That life isn't an easy ride and certainly not too quick, but it is a rewarding one.
Title: About Dry Grasses
Festival: Cannes (Competition)
Director: Nuri Bilge Ceylan
Screenwriters: Erbu Ceylan, Nuri Bilge Ceylan, Akin Aksu
Cast: Deniz Celiloglu, Ece Bagci, Merve Dizdar, Musab Ekici
Running time: 3 hr 17 min
Sales agent: Playtime
Must Read Stories
'Killers Of The Flower Moon', 'May December' Take Over: Reviews, Pressers, Photos
Paramount Buys Jodie Comer's 'The End We Start From' In Mid-7-Figure NA Deal In Cannes
Tenquel Racing To $320M Global Opening; Shifts To $66M-$67M U.S. Frame
Strike Talk Podcast: MIT Professor On A.I. (Takeaway: Be Afraid. Be Very Afraid)
Read More About:
Source: Read Full Article