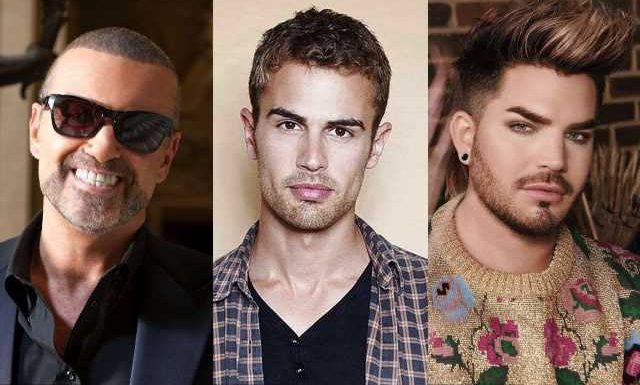 The Queen + Adam Lambert lead vocalist has a sarcastic response to rumors that the 'White Lotus' actor is the top contender to portray the late gay singer of Wham!.
AceShowbiz –Adam Lambert isn't into the idea of Theo James playing George Michael in a potential biopic. The "American Idol" alum showed a strong disapproval after reports emerged that the "Divergent" star is the top contender to play the Wham! frontman in an upcoming film.
The 40-year-old gave a sarcastic response after the Advocate shared the news via an Instagram post on Tuesday, January 17. "Yay another straight man playing a gay icon," he wrote along with a rolling eye emoji, which spoke more than his words.
Appearing on "Watch What Happens Live With Andy Cohen", James was asked if he'd like to play Michael, who was openly gay until he died in 2016 of heart disease at the age of 53. Noting his and the late singer's shared Greek heritage, the 38-year-old hunk said, "Oh yeah, I would love that, he's an icon. He's a lot of Greek, and I'm a lot of Greek. Put that Greek together, and you get falafel."
Following the interview, Daily Mail reported that the supposed biopic was in the final stages of development. The film reportedly will follow the singer's career from his Wham! days to his success as a solo artist with hits such as "Careless Whisper".
"The script is in the final stages and producers are looking for their leading man," a source told the outlet. "Theo's name is the one on everyone's lips. He would be perfect for the part. This is George's story, warts and all."
However, Michael's family has denied the biopic reports. "To all of George's Lovelies, fans and lovers of his music, a story has been published stating that George Michael's family has endorsed a so-called biopic about his life," George Michael Entertainment said in a statement on Monday. "On behalf of George's family and GME, we want to make it clear that there is no truth whatsoever in this story, we know nothing about this project and will not be endorsing it in any way."
You can share this post!
Source: Read Full Article