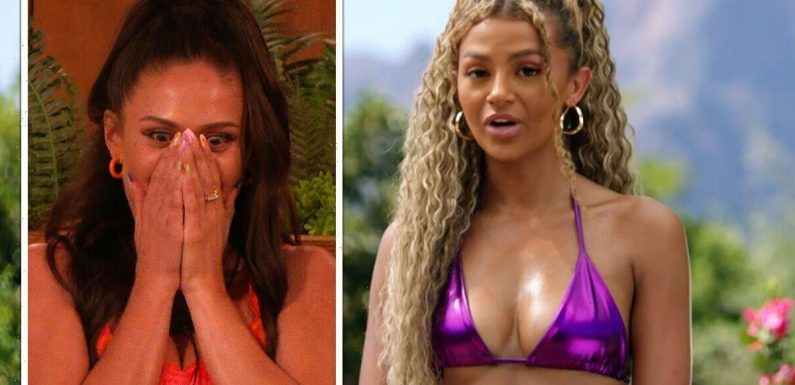 Love Island First Look: New bombshells revealed
We use your sign-up to provide content in ways you've consented to and to improve our understanding of you. This may include adverts from us and 3rd parties based on our understanding. You can unsubscribe at any time. More info
Love Island fans have been counting down the days for the hit reality programme to return to screens for season nine. The ITV2 series has only been airing for a couple of nights, but many viewers have been left unimpressed with this year's Islanders. Some have claimed the show, which first aired in 2015, has "lost its zest" and "needs older contestants".
During Wednesday's episode of Love Island, the contestants were introduced to two new bombshells.
Two original Islanders received texts inviting them out on dates with newbies Zara Deniz Lackenby-Brown and David Salako.
Zara went on a date with financial advisor Ron Hall while David asked biomedical student Tanya Manhenga to have a drink.
While they were away from the villa getting to know one another, the other contestants were left wondering how the dates were going.
Dozens of viewers took to social media to comment on the latest instalment of Love Island, with She tweeting: "I think Love Island has lost its zest, but I've got to see it through #LoveIsland."
Destiny commented: "It's hard to watch this season of Love Island."
Charise penned: "You need some older contestants. There's a reason Maura and Ekin-Su are amongst the most loved islanders ever!
"They didn't give a toss what others thought about them, therefore more carefree! We need more of this for better entertainment! #loveisland."
Isa fumed: "We've seen three episodes but let's be honest they've been boring #LoveIslandUK."
However, Hayley shared: "Why is everyone complaining of it being boring? We're only on day two #LoveIsland."
Tasha, who was a fan of Islander Will Young, commented: "Farmer Will is the most entertaining one there so far #loveisland."
Elsewhere on the episode, Haris Namani pulled Olivia Hawkins aside to find out where he stands now she's coupled up with Tom Clare.
Haris said: "Out of every girl in here, you are the one that I'm most sexually attracted to, you're a very good-looking girl."
Olivia replied: "Looks wise I feel like he's [Tom] growing on me but you're more my type, I'm more physically attracted to you.
"And then personality, the thing that gets me so stuck is the fact that you're both so different and I just need to decide what I want from a guy."
Will Tom be able to retain Olivia's full attention following her one-to-one with Haris?
Meanwhile, newly single Will got to work "grafting" Lana Jenkins by the pool, but his hard work didn't seem to pay off.
Later in the Beach Hut Will said: "[I've] got to do a lot of grafting, do a lot of talking and try to take in as much as possible."
Ron, who is partnered up with Lana, confessed to the cameras newcomer Zara had "everything" and admitted his head was "swivelling".
Love Island continues on Thursday at 9pm on ITV2 and ITVX.
Source: Read Full Article