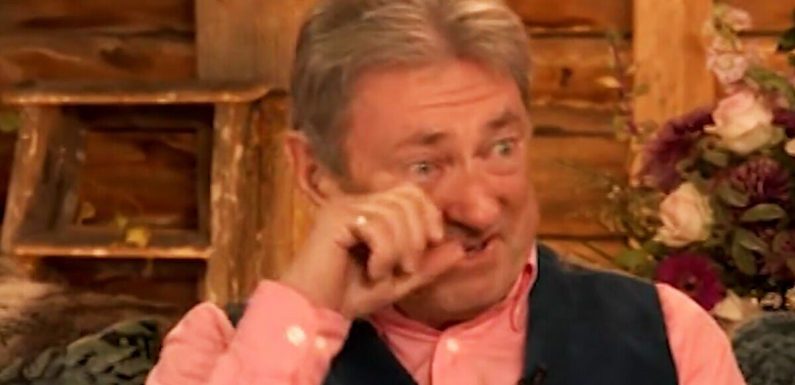 Alan Titchmarsh breaks down over Doc Martin scene
During the latest episode of Love Your Weekend with Alan Titchmarsh, the presenter invited actress Jessica Ransom onto the sofa for a talk about her newest project. Jessica is best known for starring as medical receptionist Morwenna in the beloved ITV programme Doc Martin. However, Alan, 73, was reduced to tears after watching an emotional scene for the medical drama.
Love Your Weekend played an tear-jerking scene from Doc Martin involving lead actor Martin Clunes, who plays Dr Martin Ellingham, and Jessica.
Martin's character tells Morwenna: "Please don't hug me."
"Come on Doc, I know you better than that," the receptionist replies as she holds out her hand so he can shake it.
"Thank you Morwenna, you've been very, very good," Doc Martin says as she breaks down in tears.
After watching the clip, actress Jessica admitted: "It's zero acting really, it's just actual sadness."
Alan tried to clear his throat as he started welling up over the touching scene.
Wiping tears away, he said: "Well, yes, we are both a bit [emotional], aren't we?"
As Alan was trying to speak about the farewell scene his voice continued to crack.
"From a viewer's point of view," he struggled to say. "Oh how ridiculous, it's not real. Heaven's above!
"But we carried along with you and we got to know you."
Martin's 18-year stint as the ITV show's lead came to an end last year with one last Christmas special.
After discussing the well-loved drama, Alan moved on to asking the actress about her upcoming projects and life.
Don't miss…
The Repair Shop's Suzie Fletcher opens up on heartbreaking scene [INTERVIEW ]
Gardeners' World's Adam Frost reacts to claim he's new Alan Titchmarsh [LATEST]
Tommy Walsh is sticking it to cancer with help from Nelson Mandela [LATEST]
She quipped: "I have two children, two small boys, it's like having dogs.
You take them for walks and hope they don't bite anyone."
The actress is currently performing a play called Home, I'm Darling which is about one woman's quest to be the perfect 1950s housewife.
"I have to congratulate you, as you are a BAFTA-winning actress," Alan added.
Jessica, who has starred in the children's show Horrible Histories, won the Children's Performer Award Winner BAFTA in 2015.
While acting in the hit television show, Jessica got to play 150 different historical characters.
She is now writing for Horrible Histories where she gets to learn about "gross stuff" people did throughout history and writes scripts about it.
"The work the costume and the make-up team do for it is amazing," Jessica added as she reflected on playing four characters each day.
Comparing television work to theatre work, Jessica shared: "Going back on stage certainly has been a bit of a scare as when you're on telly you can have another go at it."
Love Your Weekend with Alan Titchmarsh continues next Sunday at 9.25am on ITV.
Source: Read Full Article