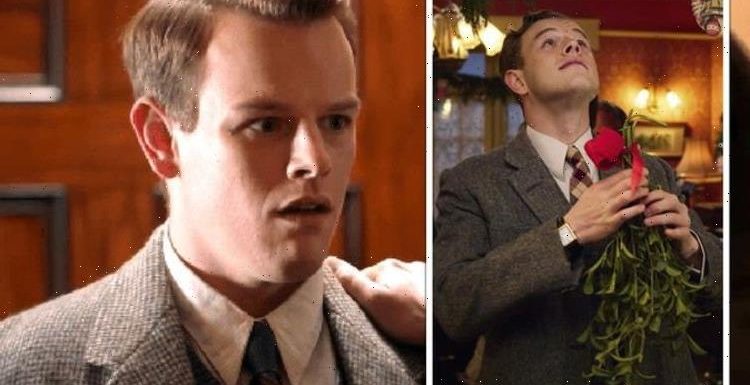 All Creatures Great and Small: Season 2's happy ending
We use your sign-up to provide content in ways you've consented to and to improve our understanding of you. This may include adverts from us and 3rd parties based on our understanding. You can unsubscribe at any time. More info
All Creatures Great and Small is a fan-favourite on Channel 5 and the characters will be making a comeback soon. The second Christmas special promises to bring equal measures of joy and heartache. Could Tristan Farnon (played by Callum Woodhouse) leave as the stars tease bad news?
All Creatures Great and Small season two ended on a happy note, with James Herriot (Nicholas Ralph) proposing to Helen Alderson (Rachel Shenton).
However, some of the characters' futures were left up in the air as Tristan was expecting to receive his exam results.
Having failed the first time, Siegfried (Samuel West) put Tristan through his paces to get back on track.
The youngest Farnon sibling said he was ready to go back to college to study again, in the hope he passes on his second attempt.
But the creators of the series have teased "heartache" in the Christmas special.
Executive producer Sir Colin Callender said: "I cannot wait for our audience to see this year's Christmas Special, which delivers equal parts warmth, heartache and yuletide cheer.
"Bringing the All Creatures Great and Small family back together for a festive celebration has become a yearly highlight for all of us.
"It's as much a treat for us to make as it will be for viewers to watch."
There are a number of reasons as to why Tristan may be the one to face bad news in the special.
The most important of which is whether he has passed or failed his veterinary exams.
If he fails a second time, the disappointment could be too much for him to bear.
Unable to be around his older brother out of shame, Tristan could opt for a totally new start.
With this may come a move away from his familiar surroundings as he sets off for pastures new.
Woodhouse's interpretation of Tristan has gone down a huge hit with fans, so it would be devastating to see him go.
However, if he passes, it would be the best Christmas gift they, and he could wish for.
Another thing on Tristan's mind is his romantic relationships as he has seen others around him find true love.
Tristan is known for his casual flings with women, but he is yet to find a long-term partner.
After seeing James take the next steps with Helen, he could feel a pang of disappointment as he is missing out.
Could he broaden his horizons by moving out of the village in the hope of finding long-term romance?
Although this is unlikely, his yearn for a genuine partner could become more apparent during the festive season.
As Christmas celebrates love and caring for others, he may start to feel left out.
That being said, it is hoped he returns in potential future seasons as he is a fan-favourite.
Speaking ahead of the Christmas special, Woodhouse said: "Tristan is in a very similar situation as he was last Christmas, where he's eagerly anticipating finding out whether he's passed his exams.
"There's something in him this time though that makes it mean much, much more than it did the first time around – or the second, third or fourth time around – so he is on tenterhooks.
"But Tristan still manages his usual tricks with mistletoe around the house, he's up to his usual antics!
"Inside he is bubbling away a bit more nervously though than in previous years. His heart's in it a bit more this time."
The All Creatures Great and Small Christmas Special airs on Christmas Eve on Channel 5 at 9pm.
Source: Read Full Article