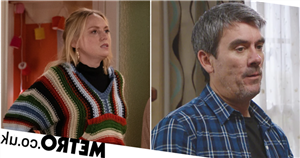 Cain Dingle (Jeff Hordley) has not reacted well to being told that he can't see his son Kyle (Huey Quinn) in Emmerdale.
Since Kyle was released on bail while awaiting a court date for the killing of Al Chapman (Michael Wildman), a condition of the bail was that he was to have no contact with Cain, who of course is a witness to what happened to Al.
Cain has protested not being able to see Kyle, arguing that his son needs him now more than ever. Amy (Natalie Ann Jamieson), Moira (Natalie J. Robb) and the rest of the family, meanwhile, have tried to convince Cain that to go against the court's rules is a dangerous game.
In upcoming episodes the whole situation becomes inflamed again when Cain spots Kyle playing with Lucas (Noah Ryan Aspinall) as Will (Dean Andrews) supervises them. Cain suggests taking his boy for an orange juice, but Will stands firm – Amy has told him not to let Cain come anywhere near Kyle. An angry stand-off ensues.
'He has a short fuse and that's the way that Cain always reacts,' Jeff Hordley told us. 'He doesn't think about the bigger picture, he just thinks, 'Who are you to tell me I can't see my son?'
Cain later decides to pay Will back for not letting him talk to Kyle, and for his treatment of Sam (James Hooton) after Will accused him of stealing his watch. He unlocks the gate to the stall housing Apollo, Kim (Claire King)'s new stud horse.
'He sees Will speaking to the horse and then thinks, hold on a minute, rather than have a word with Will and speaking to his face and talking to him about the situation he decides to take the lock off the horse box and let the horse out so it can run free,' Jeff said. 'He kind of thinks, well that teaches you a lesson.'
And, as he watches from a safe distance it seems his plan has worked since Will is totally out of his depth trying to control the runaway horse. It takes Caleb (William Ash) and Sam to bring the animal safely under control and Will is completely humiliated – much to Cain's amusement.
Source: Read Full Article