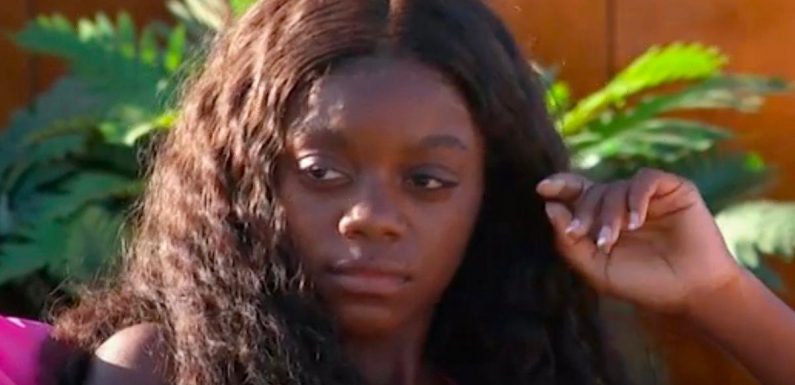 Bookmark
Get all the latest gossip from the villa straight to your inbox with our Love Island newsletter
We have more newsletters
Love Island 's It couple could be on the rocks as Tanya admits to the girls that she's getting the ick with Shaq.
During Thursday's episode, Shaq and Ron clashed once again after the latter was sat chatting to the girls whilst the rest of the boys were washing up.
Wanting to clear the air, Shaq pulls Ron for a chat and says: "I just wanted to speak to you on a one-to-one basis, at the start me and you were very close and very tight and as time has gone on we've grown further apart."
READ MORE: Love Island's Tanyel makes Ron marriage confession after brutal villa dumping
The24-year-old continues: "It stems from how much I care about Lana, I do care about you as well and I don't want there to be any friction between me and you."
After their conversation, Shaq heads over to Tanya and Lana who also want to talk about what happened the night before.
Tanya says: "It was rude, he's a grown man, he heard you the first time," as Lana agrees: "It didn't sit right and I felt like it wasn't about the kitchen."
Later, the girls head out for cocktails and discuss the current divide between the boys.
Lana says: "I feel like the girls are a lot stronger than the boys at the minute."
Agreeing, Tanya says: "Yes, in terms of friendship, we're like this" while crossing her fingers.
New bombshell Claudia is also aware of the divide as she adds: "I feel like there is tension between them."
As their girly chat continues, Tanya admits Shaq could be giving her the 'ick', despite confessing her love for him just a week ago.
When the girls return and the islanders begin enjoying their evening, Shaq pulls Tanya for a chat.
He says: "I wanted to speak to you about when you and Lana spoke to me, with that situation, I'll be honest, I really didn't like it. It felt like I was being told off."
Tanya replies: "Babe, no-one is coming to you like a child, I don't know why you're taking it like that."
Shaq says: "The way it was handled, I don't like it and I don't expect you of all people to put me in that situation."
Standing her ground, Tanya responds: "I understand, but for that specific situation that's how I would have handled it and if I had to go back I would do it the same."
Afterwards, the islanders are disturbed by a text telling them to gather around the firepit.
For more of the latest showbiz and TV news from the Daily Star, make sure you sign up to one of our newsletters here
READ NEXT:
Love Island fans slam Shaq for gossiping and blame him for Tanyel leaving

Love Island's Tanyel has four-word warning for 'friend' Ron as she exits villa

Love Island final just a few weeks away as date finally 'revealed'
Source: Read Full Article