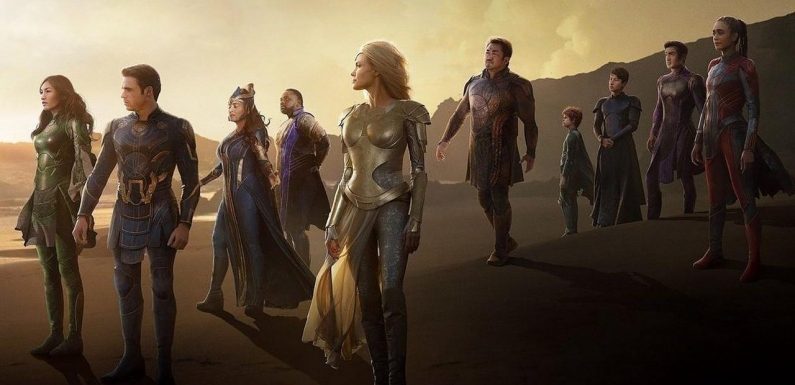 The 'Maleficent' actress slams 'ignorant' Middle Eastern film censors for banning Marvel's latest superhero movie as the studio refused to cut out the homosexual scenes.
AceShowbiz –Angelina Jolie is disappointed "ignorant" censors have banned her new film "Eternals" in Saudi Arabia, Qatar, Kuwait, Bahrain, and Oman, reportedly because it features Marvel's first gay couple.
The actress has reacted to Thursday's (04Nov21) news that the Marvel blockbuster, which was due for release in the region on 11 November, won't be shown at all in those countries, after the movie's producers reportedly refused to remove the offending scenes.
Ahead of the film's release, director Chloe Zhao urged Disney and Marvel bosses not to cut any of the homosexual scenes, which include a kiss between superhuman Phastos, who is played by Brian Tyree Henry, and his husband Ben, portrayed by [b=Haaz Sleiman], even though it might result in the film not being shown in certain countries.
"There's a big desire from Marvel and myself – we talked about this – to not change the cut of the movie," she told IndieWire last month (Oct21), adding, "Fingers crossed," that the film would be viewed as she intended all around the globe.
The censors have not shared their reasons for shutting down the film, but homosexuality remains illegal across much of the Middle East.
Now that the film has been banned in some countries, Angelina is "sad" for audiences who will miss out on seeing Eternals.
"I'm sad… and I'm proud of Marvel for refusing to cut those scenes out," Jolie told news.com.au.
"I still don't understand how we live in a world today where there's still (people who) would not see the family Phastos has and the beauty of that relationship and that love."
"How anybody is angry about it, threatened by it, doesn't approve or appreciate it is ignorant."
Meanwhile, the film will be released in the United Arab Emirates, Jordan, Lebanon, and Egypt with all scenes of intimacy edited out.
"Eternals" also includes the Marvel Cinematic Universe's first sex scene, between Richard Madden and Gemma Chan's characters.
Source: Read Full Article