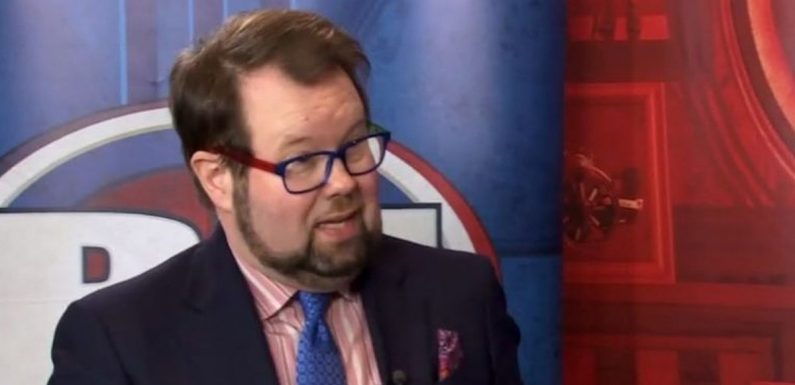 Bargain Hunt presenter Thomas Forrester was apologetic after a couple came on the show and lost more than £100 after following his advice.
During Wednesday's episode (March 22) of the BBC programme, two new teams were introduced and it wasn't long before fans were complaining about the prices.
The red team featured married couple Ben and Mandy while Janet and her son Xander made up the blue team.
READ MORE: Bargain Hunt fans horrified by 'haunted' doll with dead man's eyes and hair
Both teams were handed £300 to purchase items in Brackley, Northamptonshire, with the winners determined by which pair makes the biggest profits or most minor losses.
Bill and Mandy bought an oil lantern for £35, a Clarice Cliff pot for £85 and a Swedish glass vase for £50.
However, things didn't go to plan and they made a £20 loss on the pot and a £10 loss on the vase.
Thomas, gave the couple a "Bonus Buy" which meant they had an opportunity to gain profit.
He then presented Bill and Mandy with a sack barrow which he claimed could "make them a fortune," estimating it could earn them up to £180.
It only sold for £45 however, meaning the couple's total loss amounted to £115.
Afterwards, Thomas was forced to apologise to the couple as he told them: "Oh no, no. We can't have that. That's awful, I'm sorry."
Viewers were also stunned by the estimated price of the 20th century sack barrow and raced straight to social media to share their thoughts.
One viewer wrote: "No way I'd be paying £130 for that" as another shared: "Sack barrow for £130? Lunacy."
Echoing this, a third person added: "Sack barrow for £130? Lunacy."
For more of the latest showbiz news from Daily Star, make sure you sign up to one of our newsletters here.
READ MORE:
Blackadder star reveals Miriam Margolyes 'tickled his balls' in X-rated encounter

EastEnders Zack Hudson's HIV storyline 'having huge impact on viewers', says charity

James Bond 'casts huge British star' as MI5 boss in iconic film franchise
Source: Read Full Article