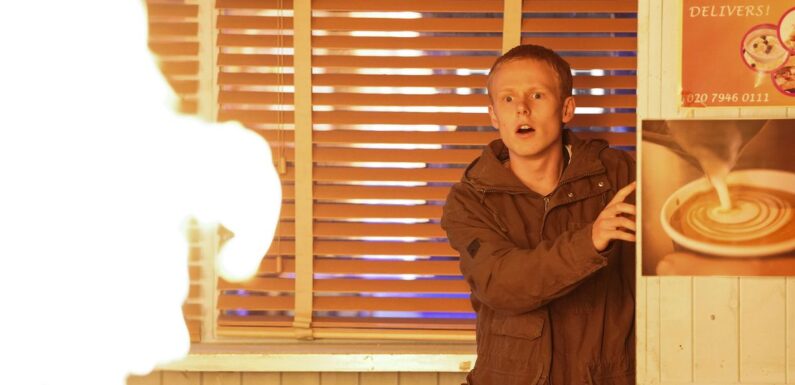 EastEnders fans are convinced they've figured out a shocking character death on the BBC soap, but it's 'not' Bobby Beale who 'dies'.
Kathy Beale's cafe went up in flames in dramatic scenes on Thursday evening's visit to Walford, with the out of control blaze putting several lives at risk.
Peter Beale and Kathy's hubby Rocky Cotton dashed into the fiery building when they realised Bobby was stuck inside, but during their daring rescue, the roof caved in, injuring all three of them.
Following the accident, Rocky seemed alright, but it was later revealed that Bobby and Peter were in intensive care, with Peter in particular fighting for his life while on a ventilator.
This will no doubt serve as a real wakeup call for Rocky, who had set the cafe on fire in the hopes of staging an insurance scam to pay back his debts to Nish Panesar, something Kathy is currently unaware of.
But could his plan result in one of Kathy's grandsons dying? Viewers certainly think so, with many guessing a Beale family member will die in the fire.
Fans are sure there'll be a twist where Bobby survives, and his brother Peter dies after trying to save him. One viewer tweeted: "Have a horrible feeling that Peter might die. Hope this doesn't happen though. Lauren has already lost Abi she can't lose Peter too."
Another agreed: "Peter on ventilation he's as good as dead. No word on Bobby yet. Serious blood on Rocky's hands." Another said: "If Peter or Bobby die, I will riot."
One viewer speculated: "OMG Peter. Dies/get seriously f***ing injured desperately tryna save Bobby?" while another pondered: "Wait… all the spoilers say Cindy is heartbroken after the fire, what if Peter dies saving Bobby."
Fans will have to wait until next week to see if their predictions come true and if Rocky's secret will be revealed.
Kathy could only watch in shock as the firefighters arrived to tackle the flames, with her family trapped inside. With a male character set to meet his end this Christmas and Kathy potentially involved, will she seek revenge when she discovers the truth?
EastEnders is on from Monday to Thursday at 7:30pm on BBC One and BBC iPlayer.
* This article was crafted with the help of an AI engine, which speeds up OK!'s editorial research and applies it to article templates created by journalists in our newsrooms. An OK! editor reviewed this content before it was published. You can report any errors to [email protected]
Source: Read Full Article