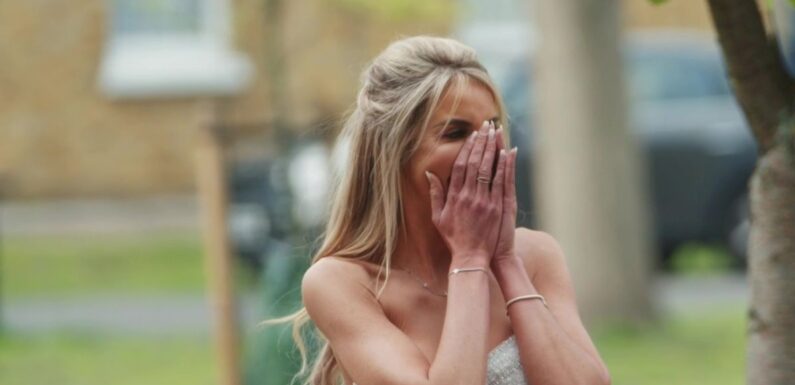 Married at First Sight star Georges pulls out all the stops as he heads on his final date with Peggy.
In an exclusive clip shared with Daily Star, which will air during Wednesday's episode (November 8), 32-year-old Peggy can be seen wearing a stunning white gown as she prepares for her last date with Georges. A confused Peggy says: "What is going on?" as she wonders where her partner is.
But as she looks up, Georges arrives to pick up his wife in a horse and carriage. "Oh my god," exclaims Peggy as Georges, 30, is quick to compliment her on her show-stopping outfit.
READ MORE: E4 MAFS UK chaos as Jordan throws wife Erica under the bus in tense commitment ceremony
READ MORE: Want more TV? Daily Star has just the thing for you!
"Look at you! Wow," he tells her as the couple share a kiss. "This is the best start to any date possible. It couldn't get any better than this," Peggy says.
After their final date, the couple will take part in the vow renewal where they will decide whether to renew their vows or walk away from their marriage for good. While Peggy and Georges seem to be heading in the right direction, the same can't be said for others as Roz and Thomas' marriage came to an end during Tuesday's episode (November 8).
The final commitment ceremony happened during last night's instalment and Roz decided to leave the social experiment. The couple had been together for two months, however Roz began having doubts when they met each other's families.
Opening up about the reason they split, Roz explained that Thomas' mother asked when they were going to have babies and it made her realise that she wants children, just not with him. Sobbing her way through the ceremony, Roz told the experts: "I wish I didn't feel like this".
Although they asked Roz to reconsider her decision, she decided to dump Thomas. Viewers were utterly devastated by the couple's breakup and took to X, formerly known as Twitter, to share their heartache.
One person wrote: "Don't mind me just sat crying at Roz and Thomas on MAFS. Man I feel for Thomas, he just wants to be loved, but Roz doesn't know how to love him. Typical really, just usually it's the other way round…" A second added: "Legit crying for Thomas. He is handsome, humble and lovely. These girls just think they're something else."
Another devastated viewer penned: "Thomas genuinely is the most sincere kind and unselfish soul he deserves the world and nothing less. F*****g sobbing." While a fourth agreed: "Not me actually crying, shedding tears over Married At First Sight? I wanna hug Thomas so bad my baby."
For the latest breaking news and stories from across the globe from the Daily Star, sign up for our newsletter by clicking here.
Source: Read Full Article