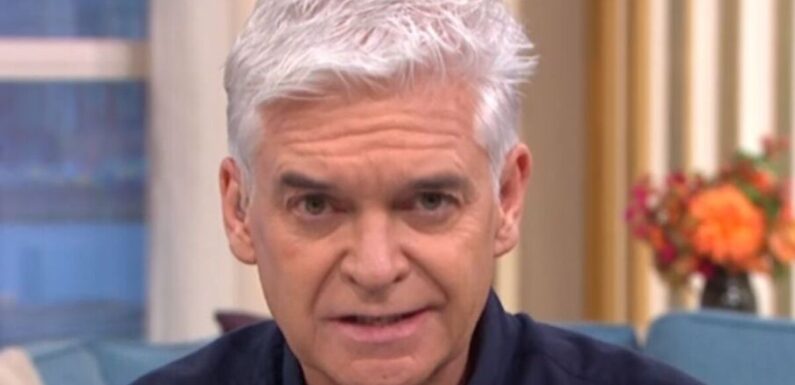 Viewer asks BBC to 'justify' its Phillip Schofield coverage
Since the announcement of his departure from This Morning, many news outlets and current presenters have had their say on Phillip Schofield.
When the news first broke that Phillip was stepping down, BBC News gave a short bulletin that day to reveal the news to its viewers.
However, many viewers were left annoyed and confused that the outlet chose to report on Phillip rather than things they deemed more important.
Newswatch presenter Samira Ahmed reported how BBC viewers were left irritated by the bulletin and said during Saturday's BBC Breakfast: "Viewers thought that Phillip Schofield's departure didn't deserve the prominence BBC News gave it.
"One of them was Jane Carr who recorded this video for us," with Jane explaining in the video: "Dear BBC.
"How can you possibly justify giving over the first five minutes of the early evening news on Saturday to the news that Phillip Schofield had stood down as a presenter on ITV?
"President Zelensky was in Japan to meet with the G7 leaders about the war in Ukraine and that in my book is far more important than what is no more than tabloid celebrity fodder concerning the departure of an ITV presenter."
When he first stepped down from This Morning, there were rumours that he and co-star Holly Willoughby were "barely speaking" behind the scenes.
Don't miss…
Escape to the Chateau's Angel Adoree 'launches into foul-mouthed rant'[LATEST]
Midsomer Murders John Barnaby star pays tribute to on-screen wife[LATEST]
GB News host admits 'it's satisfying' watching Schofield's career 'tumble'[LATEST]
He wrote on his Instagram: "I understand that ITV has decided the current situation can't go on and I want to do what I can to protect the show that I love.
"So I have agreed to step down from This Morning with immediate effect, in the hope that the show can move forward to a bright future."
However, since then he has admitted to having an affair with a younger This Morning colleague and stepped away from his relationship with ITV completely.
In a statement made to Daily Mail, he wrote: "I am deeply sorry for having lied to them and to many others about a relationship that I had with someone working on This Morning.
"I did have a consensual on-off relationship with a younger male colleague at This Morning. Contrary to speculation, whilst I met the man when he was a teenager and was asked to help him to get into television, it was only after he started to work on the show that it became more than just a friendship.
"That relationship was unwise, but not illegal. It is now over. I have therefore decided to step down from the British Soap Awards, my last public commitment, and am resigning from ITV with immediate effect expressing my immense gratitude to them for all the amazing opportunities that they have given me.
"I will reflect on my very bad judgement in both participating in the relationship and then lying about it."
ITV responded to the statement from Phillip and said: "We are deeply disappointed by the admissions of deceit made tonight by Phillip Schofield.
"The relationships we have with those we work with are based on trust. Philip made assurances to us which he now acknowledges were untrue and we feel badly let down.
"We accept his resignation from ITV and therefore can confirm that he will not be appearing on ITV as had previously been stated."
BBC Breakfast airs daily from 6am on BBC One.
Source: Read Full Article