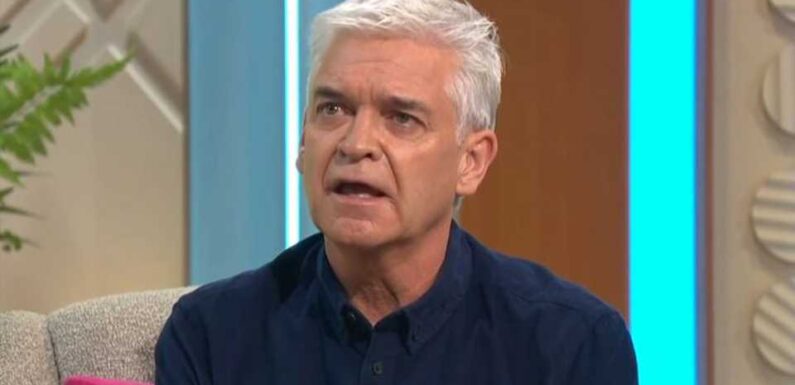 ITV admits it DID investigate Phillip Schofield over his younger lover but said the probe found no evidence "beyond hearsay and rumour".
The television network has today announced it looked into claims of the affair between the former TV star, 61, and a teen colleague.
A spokesperson said both parties denied the relationship leading to a conclusion it was a rumour back in 2020.
ITV also said no one employed on the daytime show This Morning knew of the fling.
A spokesperson said: "Further to our statement last night, ITV can confirm that when rumours of a relationship between Phillip Schofield and an employee of ITV first began to circulate in early 2020 ITV investigated.
"Both parties were questioned and both categorically and repeatedly denied the rumours as did Phillip's then agency YMU.
READ MORE ON SCHOFIELD
Holly Willoughby goes to ground after Phil Schofield scandal
This Morning could be AXED amid Phillip Schofield bombshell scandal
"In addition, ITV spoke to a number of people who worked on This Morning and were not provided with, and did not find, any evidence of a relationship beyond hearsay and rumour.
"Phillip's statement yesterday reveals that he lied to people at ITV, from senior management to fellow presenters, to YMU, to the media and to others over this relationship."
It comes as:
ITV denies knowing Schofield had a younger lover
Holly hasn't been since Schofield quit
Eamonn Holmes speaks out before launching another attack on Schofield
Schofield apologises to his wife Stephanie Lowe
Schofield resigns from ITV and stepped down from presenting the British Soap Awards
ITV breaks its silence on Schofield's "deceit"
Most read in Showbiz
Huge US music star reveals he's not had sex in seven years
Everything we know about This Morning worker who had affair with Schofield
Phillip Schofield's agency reveals why it dropped ex-This Morning star
Phillip apologises to wife who stood by him as he reveals affair
---
It comes one day after Schofield shockingly confirmed the "consensual on-off relationship" with an employee – who also worked for the television network.
It led to him sensationally quitting ITV on Friday just six days after announcing his departure from the iconic daytime show.
Schofield's statement
In a statement Schofield said: "I did have a consensual on-off relationship with a younger male colleague.
"Contrary to speculation, whilst I met the man when he was a teenager and was asked to help him to get into television, it was only after he started to work on the show that it became more than just a friendship.
"That relationship was unwise, but not illegal. It is now over.
"When I chose to come out I did so entirely for my own wellbeing. Nobody 'forced' me out.
"Neither I nor anyone else, to my knowledge, has ever issued an injunction, super or otherwise, about my relationship with this colleague, he was never moved on or sacked by or because of me.
"In an effort to protect my ex-colleague I haven't been truthful about the relationship.
"But my recent, unrelated, departure from This Morning fuelled speculation and raised questions which have been impacting him, so for his sake it is important for me to be honest now.
"I am painfully conscious that I have lied to my employers at ITV, to my colleagues and friends, to my agents, to the media and therefore the public and most importantly of all to my family.
"I am so very, very sorry, as I am for having been unfaithful to my wife.
"I have therefore decided to step down from the British Soap Awards, my last public commitment, and am resigning from ITV with immediate effect expressing my immense gratitude to them for all the amazing opportunities that they have given me.
"I will reflect on my very bad judgement in both participating in the relationship and then lying about it.
"To protect his privacy, I am not naming this individual and my deepest wish is that both he and his family can now move on with their lives free from further intrusion, and that this statement will enable them to do so.
"I ask the media now to respect their privacy. They have done nothing wrong, and I ask that their privacy should be respected."
The man told us complete lies and we unfortunately believed him
Former This Morning presenter Eamonn Holmes, 63, launched a fresh scathing attack on Schofield yesterday.
Posting on Twitter, Eamonn said: "Ruth and I [were] deceived and lied to. One day I will tell the story.
"We had no issue with him being gay, only support. What transpired took us for fools.
"The man told us complete lies and we unfortunately believed him."
An ITV spokesman said last night: "We are deeply disappointed by the admissions of deceit made tonight by Phillip Schofield.
"The relationships we have with those we work with are based on trust.
"Phillip made assurances to us which he now acknowledges were untrue and we feel badly let down.
Read More on The Sun
I got a nose job and a forehead reduction but trolls say I look 'disgusting'
Fashion guru reveals how women with big boobs can tie a triangle bikini for support
"We accept his resignation from ITV and therefore can confirm that he will not be appearing on ITV as had previously been stated."
The show was described as a "national treasure" and has been on Brits' screens for 35 years, with Schofield presenting for 21 of them.

Source: Read Full Article