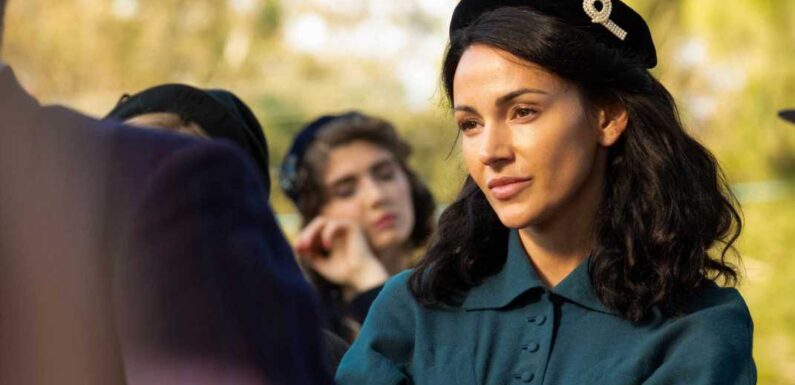 VIEWERS of BBC drama Ten Pound Poms were all left saying the same thing as the show appeared to inlcude a major blunder for the second week running.
Opinion has been divided on actress Michelle Keegan's latest acting project with same fans calling out the BBC show for not being accurate and true to life.
And thought was much the same following the third episode of the show.
Viewers watched on as Michelle's character, Kate Thorn, took a phone call from her base Down Under back home to England despite it being the 1950s.
It is the second week such a call has featured on the show and whilst it was possible to do a long-distance call in the 50s, the phone line would have been incredibly patchy yet Kate seemed to handle the call at ease.
Fans hit out at her for being able to 'whisper' down the phone despite the likelihood she would have been unable to be heard on the other end of the telephone.
More on Ten Pound Poms
BBC viewers all have same complaint about Michelle Keegan series Ten Pound Poms
I was Ten Pound Pom – yes Oz was rough but here's what BBC show got wrong
They also argued that the call quality would not have been crystal clear as it appeared to be on the programme.
Writing online, one fan said: "There is no way she would have called England through an operator and whispered during the call. She would have been shouting down the phone because the quality of the calls was poor. #TenPoundPoms."
Another added: "The weekly direct phone call from rural Australia to 1950s England on #TenPoundPoms. It'll be Facebook Messenger next."
As a third said: "The line to England was b***dy good back then!"
Most read in Drama
Where My Name Is Earl cast are now – from 21st weight loss to Scientology
This is where ITV's Maryland was filmed
From her career to her home life – inside the life of Maryland's Eve Best?
Maryland viewers slam show after spotting 'frustrating' detail about the location
It was far from the only criticism as many others also took fauly with certain elements of the show.
Viewers pointed out the unlikelihood of Kate having her own car, as she set on a road trip to locate her estranged son Michael.
One wrote to Twitter: "I doubt that either of those two women would have had cars or been drivers, given their backgrounds."
A second questioned: "Where did Kate get that car from?"
Ten Pound Poms follows a group of Brits as they leave post-war Britain in 1965 and embark on a new adventure down under.
For only £10, the group have been promised a better quality of life in Australia.
But while the offer sounds like a dream, the reality is not exactly what they have been promised.
Ten Pound Poms airs on BBC One at 9pm on Sunday nights.
Source: Read Full Article