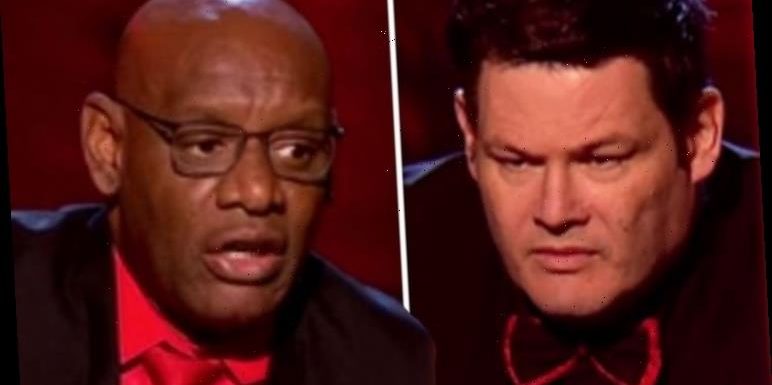 The Chase: Shaun Wallace takes aim at contestant's singing
Beat the Chasers returned for a brand new series tonight as hopeful quizzers took on Anne 'The Governess' Hegerty, Mark 'The Beast' Labbett, Shaun 'The Dark Destroyer' Wallace, Paul 'The Sinnerman' Sinha and Jenny 'The Vixen' Ryan. Bradley Walsh was on hand to guide the ITV contestants but was left stunned when tension erupted between Shaun and Mark.
Claire was the second contestant to face a selection of Chasers after earning just £1,000.
The contestant opted to face three of the Chasers for the chance to win £15,000.
Claire had to face Jenny, Mark and Shaun but would be given a 20-second head start.
When the Chasers had 19 seconds remaining on their clock and Claire had 15, Shaun made a huge blunder.
Read more: Bradley Walsh net worth: The Chase host has eye-watering fortune
We will use your email address only for sending you newsletters. Please see our Privacy Notice for details of your data protection rights.
Bradley asked: "Which children's writer created the Oompa Loompa??"
Shaun buzzed in but struggled to remember the correct answer as Mark and Jenny looked visibly annoyed.
After six seconds had passed, Shaun said: "That was Roald Dahl."
The Chasers went on to beat Claire but The Beast still wouldn't accept Shaun's apology.
"I'm sorry I took so long," Shaun said but Mark hit back: "You can't do that, Shaun."
"Claire, that's the way it goes. I'm so sorry," Bradley quipped. "12 seconds left on the Chasers clock.
"Dark Destroyer, what happened there? What were you thinking?"
"I don't know," he replied. "I would rather take some time and get it right."
DON'T MISS
The Masked Singer: Harlequin's identity 'worked out' by fans as singer [INSIGHT]
The Masked Singer: Blob 'unveiled' as Lenny Henry as fans spot clue [THEORY]
The Masked Singer fans convinced Viking is James Blunt [VIDEO]
"Absolutely not," Mark hit back. "It's not your time to waste. That's a terrible sin."
"See how seriously they take it," Bradley remarked.
ITV viewers flocked to Twitter to comment on the tension between the two Chasers.
One tweeted: "The Beast needs to calm down!"
Someone else wrote: "The Beast in #BeatTheChasers getting into a strop tonight. Really Beastie, it's only a game."
"Woooaahhh leave Seany boy alone Beast! #BeatTheChasers," a third added.
While a fourth said: "The Beast is fuminggggggg #BeatTheChasers."
"Oooo bit of Chaser beef from the Beast towards Shawn Wallace there. Getting all reality tv on us #BeatTheChasers," a fifth shared.
Beat the Chasers continues on ITV on Sunday at 9pm.
Source: Read Full Article